A four-car accident in Fort Myers at the foot of the Caloosahatchee Bridge sent three victims to Lee Memorial Hospital. What's most alarming about this accident is that it was completely preventable. After a sedan ran a red light, an SUV was T-boned. After those two vehicles slammed into each other, the wreck was pushed into two other vehicles that were stopped at the intersection. Officers have issued the driver of the sedan for running a red light, according to The News-Press.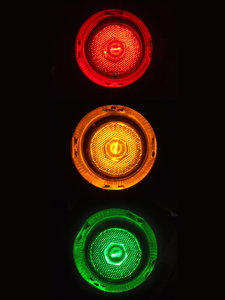 That's not all. Another accident landed two people in the hospital after a red light-running van slammed into a pickup truck. This second accident happened just before 10 a.m. at the intersection of Veronica Shoemaker Boulevard and Palm Beach Boulevard. The driver of the van has also been cited for running the red light.
Our Fort Myers car accident lawyers understand the fear that's associated with crossing through some of Southwest Florida's intersections. Cars zoom through these intersections and you're never too sure if one is going to stop or not. According to the Governors Highway Safety Administration (GHSA), the state of Florida has permitted red-light cameras throughout the state. These cameras can snap a picture of your tag and the traffic control device you disobeyed. Drivers who are busted can be fined nearly $160.
According to PhotoEnforced, there is only one red light-camera in Fort Myers. Naples is a different story, where Collier County officials recently made a decision to approve a new contract with American Traffic Solution. The new contract keeps these red-light cameras in the city for another 10 years. Commissioners voted 3-2. Cameras were first installed in the city back in 2009, according to Naples Daily News.
"When asked if we still need this program, the majority of people still said yes," Collier County Sheriff Kevin Rambosk said. "And I notice when I am on the road that, even at the intersections where there are no cameras, more people are approaching those intersections more cautiously."
In 2011, reports indicate that these cameras caught only between 1 and 1.85 drivers a day violating traffic signals. Right now, many say that the 19 that are installed at 12 intersections aren't doing enough to improve intersection safety.
Because of a state law enacted back in July, municipalities are prohibited from paying camera vendors on a per-ticket basis. Now, American Traffic Solution will be paying more than $28,000 to run their cameras. The fines collected will be split with the state.
From April 2009 through December 2011, the camera company issued more than 765 tickets.
According to Rambosk, these cameras help to save the county money. He says that if the county didn't have these cameras, then he would have to hire another four or five officers at about $100,000 a year. Cameras are more affordable.
Residents didn't agree to pay the company for another 10 year of services. Vinny Angiolillo, a candidate for sheriff, says that the company has taken far too much money from the county and we've yet to see any significant reductions in accidents as a result. He says it's not worth it.

Associates and Bruce L. Scheiner, Attorneys for the Injured, is a law firm dedicated to helping the victims of car accidents in Naples, Fort Myers, Bonita Springs, Cape Coral and elsewhere through the Southwest Florida area. Call us today for a free and confidential consultation to discuss your case. 1-800-283-2900.
Additional Resources:
Driver cited for running red light in Fort Myers crash that sent 3 to hospital, by Marisa Kendall, The News-Press
Fort Myers crash sends two to the hospital, The News-Press
Commissioners approve red-light cameras for next decade. by Katherina Albers, Naples News
More Blog Entries:
Naples Car Accidents to be Reduced by FHP's Anti-Aggressive Driving Campaign, Florida Injury Lawyer Blog, February 29, 2012