A record number of motorists are now wearing their seat belts, according to a recent press release from the Florida Department of Transportation and the Florida Department of Highway Safety and Motor Vehicles Executive (DHSMV).
New records conclude that 8 out of 12 of the surveyed Florida counties returned an average seat belt usage rate of more than 88 percent. The 2010 rate of usage was approximately 87 percent. These statistics were recorded this last June during the 2011 Click It or Ticket seat belt campaign. Seat belts have been proven one of the most effective ways to prevent death in the event of a car accident in Cape Coral or elsewhere throughout the country.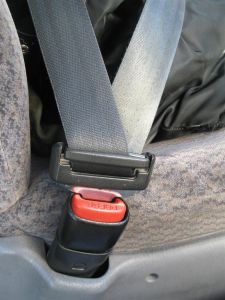 "We have made great strides in getting more and more people to buckle up, but we still have a long way to go. We must continue to do even more to meet our vision of delivering a transportation system that is fatality and congestion free," said Ananth Prasad, Secretary of the Florida Department of Transportation.
Our Fort Myers car accident attorneys would like to point out that pickup truck occupants were among the drivers least likely to buckle up on our roadways. It is important that we get all types of drivers on board with the seat belt campaign. Hundreds of lives can be saved each year with the use of seat belts.
To help raise awareness about the benefits of seat belts, the recent Click It or Ticket campaign, which took place from late May until early June, sent local and state law enforcement agencies out on our Florida roadways in search of motorists violating the state's seat belt law. Officers enacted a zero policy tolerance for those who disobeyed.
According to the Executive Director of the DHSMV, Julie Jones, state enforcement agencies are thrilled with the compliance rate in Florida. She credits the compliance to lawmakers for changing the seat belt law to make it easier to enforce. She also thanks the Florida Highway Patrol and the other partnering agencies for their stepped up efforts to make our roadways a safer place for everyone.
According to seat belt usage statistics, Lee County ranked in at number one after reporting more than 92.4 percent of motorists were wearing seat belts in the county. Collier County followed with a close second with 92.1 percent of motorists wearing a seat belt during the 2011 poll.

Florida county seat belt usage:
-Lee County: 92.4 percent.
-Collier County: 92.1 percent.
-Palm Beach County: 91 percent.
-Broward County: 89.8 percent.
-Leon County: 89.8 percent.
-Duval County: 88.9 percent.
-Pinellas County: 87 percent.
-Miami Dade County: 86.5 percent.
-Polk County: 86.3 percent.
-Orange County: 85.9 percent.
-Marion County: 85.7 percent.
-Hillsborough County: 85.6 percent,

Associates and Bruce L. Scheiner, Attorneys for the Injured, has spent four decades fighting for the rights of accident victims throughout South Florida, including Fort Myers, Cape Coral, Naples, Port Charlotte and Sebring. Call for a free and confidential consultation to discuss your rights. 1-800-283-2900.
More Blog Entries:
Florida Dominates List of Dangerous Car Accident Cities
August 29, 2011
GHSA Steps in to Help Prevent Distracted Driving Car Accidents in Naples and Elsewhere
August 4, 2011