Fort Myers police are investigating a weekend shooting at a local apartment building.
The incident occurred in the 2800-block of Grand Avenue in Fort Myers. A 22-year-old man is charged with aggravated battery, according to FOX 4 News. All parties have been accounted for and authorities say there is no threat to the public.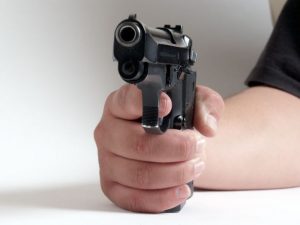 A  victim did suffer non-life-threatening injuries. FMPD is calling this an active investigation. Our injury lawyers in Fort Myers and Cape Coral know that firearm incidents are an unfortunately common occurrence. In addition to seeing the offender arrested and punished, victims may have the right to collect compensation through civil court.
Firearm Injury Claims
We know the vast majority of gun owners are responsible and we support sensible gun rights. But assault is a common cause of these injuries; so are so-called "accidental discharges" and other incidents involving guns. In many cases, mistaken identity or the wounding of bystanders results in very serious or fatal injuries to innocent parties. Last week in Houston, a 9-year-old girl was shot and killed in her car as a result of a case of mistaken identity, CNN reports.
In that case the suspect opened fire after saying someone attempted to rob him at an ATM and then fired at what he thought was the getaway car, killing the young girl who was out for Valentine's Day dinner with family.
State concealed-carry laws and Florida's Stand Your Ground law, have led to an increasing number of such instances.
However, our firearm injury lawyers in Fort Myers and Cape Coral know even in cases where a victim is targeted for assault, he or she may still be able to collect damages. Florida's laws on contributory negligence allow victims to recover damages for injuries sustained so long as they are less than half at fault. Many of these cases also involve a reaction that is totally out of proportion compared to the original slight, or alleged offense.
Firearm Injuries – Premises Liability
In shootings at an apartment complex, a premises liability claim, including a claim of negligent security, may be pursued against a property manager or owner of an apartment complex. Landlords have an obligation to provide basic safety and security, as well as an obligation to address known or forseeeable risks. When they fail, and injury to residents results, they can and should be held accountable. The same applies to shootings that occur at a business, including bars and nightclubs, which are required to have adequate security for anticipated or foreseeable issues that might arise as a result of their business.
Another common cause of premises liability involving guns is injuries to children. Most of these instances will result in a claim against a homeowner's insurance policy after a parent, guardian, or gun owner fails to properly secure firearms and ammunition.
These are tragic cases. We need to start seeing the vast majority of these victims as just that: victims of crime. Holding perpetrators fully responsible in both criminal and civil court is one more way we can reduce the chances of losing people to senseless gun violence.
If you or a loved one is injured, call Associates and Bruce L. Scheiner, Attorneys for the Injured, at 1-800-646-1210.