The stories of Southwest Florida's bicycling dangers became personal for many people recently, as The News-Press detailed a dozen of them in a recent series entitled, "Paths of Peril."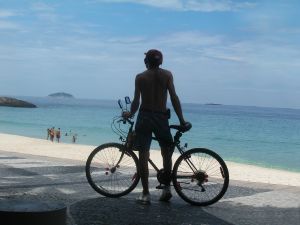 In the last five years, there have been 1,400 bike accidents in Lee and Collier counties, with Lee County ranking third in the state for the highest-number of bicycle deaths last year. Florida ranks as the No.1 most dangerous state for cyclists in the country, with 120 people killed on bicycles last year alone.
Although there aren't accurate figures to tally the number of people who are biking in the region in the last several years, there is plenty of anecdotal evidence that those figures are rising. When the governor declared March as "Bike Month" in Florida, he noted there were an estimated 25 million residents and tourists who rode bikes every year in the state. What's more, many communities are pushing cycling as a healthy, fun means of transportation in a sunny, picturesque place. There is an expectation that people should be able to engage in it without dying – and that is a reasonable expectation.

While there are some local governments that have adopted ordinances and initiated projects that focus on bicycle and pedestrian safety, it thus far has not been enough to shift the rising tide of fatalities.
Most of these deaths are occurring during the day – between 6 a.m. and 6 p.m., the data showed, and are fairly evenly distributed by day of the week — though Wednesday, surprisingly, was the heaviest day of the week for collisions. Friday was the second-highest.
When examining bicycle fatalities in Southwest Florida by month, it appears crashes increased in the winter and spring, and taper off in the height of summer. January had the highest number of deaths, followed by March and November.
The vast majority of crashes were the result of driver error, and most involved motorists between the ages of 20 and 24, though 45-to-49-year-olds were also frequent culprits. Most often, the problem was failure to yield.
In addition to these facts and figures, The News-Press worked to show the community the face of the problem – the real stories of those lost.
Among those:
–An 80-year-old saxophone player who had just returned from a three-week trip to Asia when he rode his bicycle along Ben Hill Griffin Parkway in February 2014. He was struck by a 71-year-old BMW driver, who pulled out from a side street, failing to yield.
–A 62-year-old popular television meteorologist who lost control of his bicycle, hit a road sign and then struck the curb, causing severe head injuries that ultimately led to his death.
–A 47-year-old woman on her way home from her grocery store job was struck and killed in a crosswalk by a pickup driver who didn't see her. That 54-year-old driver was ultimately cited for failure to yield and paid a $1,600 fine.
Call Associates and Bruce L. Scheiner, Attorneys for the Injured, at 1-800-646-1210.
Additional Resources:
Paths of Peril, March 7, 2015, The News-Press
More Blog Entries:
Fort Myers Bicycle Safety Fight Gets National Stage, Feb. 17, 2015, Fort Myers Bicycle Injury Lawyer Blog