The battle against text-messaging drivers is proving difficult. Experts say that it's our technology that is reprogramming us. According to The Boston Globe, a recent study by the Virginia Tech Transportation Institute proved that drivers who text message behind the wheel are about twice as likely to get into an accident as those who are focused on their surroundings.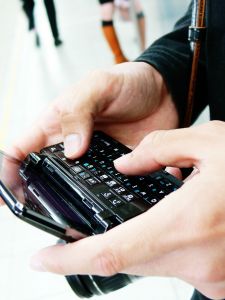 Officials with the Centers for Disease Control and Prevention (CDC) report that about a third of American adults have sent text messages or emailed while driving at least once in the last 30 days. Consider that when we tell you that roughly 90 percent of drivers think that it should be illegal to engage in these behaviors behind the wheel.
Our Fort Myers car accident lawyers understand that there were close to 215,000 traffic accidents recorded in the U.S. in 2011 that involved text-messaging drivers. That's compared to about 115,000 recorded the year before. It's clear that this is a problem that's getting worse. And Florida's new anti-text messaging law is working to fix that, but is it working?
And there is mounting evidence that using a phone while driving is a bonafide bad habit that must be combated like other addictions. The same study found we look at our smartphones an average of 60 times a day — often prompted by certain cues, like sitting down at our desks or getting into the car.

AAA calls Florida's new texting ban a "good start," and one of the law's champions in the House calls it a necessary first step if Florida is ever to adopt more strict laws to tackle what many agree is a scourge on the nation's highways: driver distraction.
The problem with the newly-enacted law is that it's only a secondary offense, meaning that drivers cannot be pulled over on that basis alone, but as part of another offense, such as speeding or running a red light. Additionally, the ban allows drivers to text while stopped, whether in a traffic jam or at a stop sign. Drivers can also send a text message to report the commission of a crime. If you're busted with a first-time offense, you're only looking at a $30 and law enforcement officers will not typically be allowed to confiscate the cell phone — but they can confiscate your phone records if your bad driving habits result in an accident with serious injury or death.
Officials call our text-messaging habits a "national epidemic." Currently, (Florida included) there are 41 states that have banned text messaging for drivers. But the number of accidents, injuries and fatalities continue to skyrocket. According to Distraction.gov, there were close to 3,500 people killed in traffic accidents in 2011 involving a distracted driving. That's compared it about 3,270 killed the year before. Officials believe that 10 percent of injury accidents in 2011 were reported as distracted driving accidents. But those are only the ones that were reported. Officials believe that the actual number of distracted driving accidents is much higher as drivers aren't typically willingly to admit that it was their dangerous and irresponsible driving habits that caused an accident. And unlike drunk driving, there's no way to test this behavior after the fact.
As we recently reported on our Florida Injury Lawyers Blog, there were close to 100 fatal accidents in the state of Florida in 2011 resulting from distracted drivers.
Call today if you or someone you love has been injured in an auto accident. We offer free and confidential consultation to discuss victim's rights. Call 1-800-283-2900.
More Blog Entries:
Pedestrian Killed, 2 Injured in Late-Night Traffic Accident, Florida Injury Lawyer Blog, September 26, 2013
Cape Coral ranks 40th in America's Best Drivers Report, Florida Injury Lawyer Blog, September 25, 2013