A Collier County man was one of two people killed in a recent morning I-75 accident. According to Naples Daily News, the accident happened on I-75 near Daniels Parkway when the 31-year-old driver reportedly drove into the back of a tractor-trailer shortly after 3:00 a.m. His vehicle became lodged under the trailer. He and his passenger were both wearing seat belts and were both killed in the accident.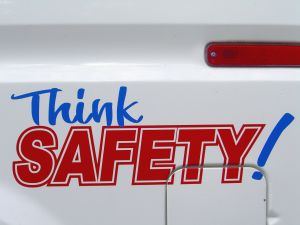 Our Fort Myers trucking accident lawyers understand that tractor-trailers have underride guards meant to stop cars from sliding underneath trailers in the event of such collisions. Unfortunately, many critics argue the federal standards are not strong enough for these guards. According to the Insurance Institute for Highway Safety (IIHS), new crash tests and analysis demonstrate that underride guards on tractor-trailers can fail in relatively low-speed crashes – with some serious and deadly consequences. The Institute recently petitioned the federal government to require stronger underride guards that will remain in place during a crash and to mandate guards for more large trucks and trailers.
These guards are the main countermeasure to help fight against death and injury when a smaller vehicle crashes into the back. In 2009, about 70 percent of the more than 3,150 people who were killed in trucking accidents were the occupants of the other vehicles involved.
Most semitrailers are required to have underride guards, but they're not required to be reinforced.
Sharing the road with larger vehicles can be dangerous if you are not aware of their limitations.
Staying Safe Around Trucks:
-Never cut off a truck. These vehicles take a lot longer to stop than our passenger vehicles. When passing, look for the front of the truck in your rear-view mirror before pulling in front and avoid braking situations!
-Always wear a seat belt. This may be your best defense against injury or death in the event of an accident with any kind of vehicle.
-Keep an eye out for a truck's blind spots. These are the areas around a truck that a driver cannot see. Remember that if you can't see the truck driver, then he can't see you.
-Always drive defensively. Avoid aggressive drivers and maintain a safe speed. Two-thirds of all traffic fatalities may be caused by aggressive driving behaviors. Keep your distance and maintain a safe speed. The only thing excessive speed does is increase your chance for a crash.
-Remember trucks make wide turns. Because of their large size, remember that a truck making a right turn may first swing left to clear the corner. Conversely, a truck making a left turn may first swing right to clear vehicles and other objects on its left side. Expect this and be prepared!

If you or a loved one has been involved in an accident, contact Associates and Bruce L. Scheiner, Attorneys for the Injured. Call for a free and confidential consultation to discuss your rights. 1-800-283-2900.
More Blog Entries:
New Regulations Limit "Hours of Service" for Truckers, Florida Injury Lawyer Blog, June 18, 2013
Flroida Trucking Accidents – Better Underride Guards Needed, Florida Injury Lawyer Blog, April 8, 2013