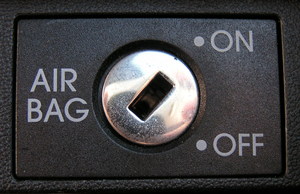 Since the invention of the airbag restraint system in the 1970's, it is true that it has saved the lives of people involved in car crashes. But, some people may not know that the safety feature found now in virtually all cars and passenger trucks can cause serious injuries under some circumstances.
The airbag is deployed in an explosion of a small cartridge that causes the bag to inflate in a fraction of a second. If the driver or passenger is too close to the airbag, or if it is not aimed correctly towards the sternum or chest area, serious injury or even death can occur. Even in event of emergency braking before the impact of a collision, an improperly or unrestrained vehicle occupant is thrown directly towards the airbag module, resulting in an increased risk of serious injury at implosion of the device. If you place an object on top of the passenger side dashboard, where airbags are generally stored, you're creating a projectile that is thrown toward the occupant at incredible force.
The National Highway Traffic Safety Administration, (NHTSA), recommends drivers sit with at least 10 inches between the center of their breastbone and the center of the steering wheel. Children 12 and under should always ride properly restrained in a rear seat. Never put a rear-facing infant restraint in the front seat of a vehicle with a front passenger air bag. A rear-facing infant restraint places an infant's head close to the air bag module, which can cause severe head injuries or death if the air bag deploys.
Almost all air bag-related deaths have involved unrestrained or improperly restrained occupants. Only by using your lap and shoulder harness correctly can you ensure that a deploying airbag will work as it was intended. In some newer, more advanced vehicles, manufacturers have refined airbag restraint system sensors to deploy in relation to the severity of the crash impact, the seated posture of the car's occupants, the distance of the occupant from the device and the usage of lap and shoulder belts. Some of today's more sophisticated cars utilize sensors which can detect these variables, and automatically deploy the air bag in a less explosive, staged deployment, or not at all if the impact is not severe. Some vehicles now have side impact air bags, and some have been designed to reduce injury in a rollover accident. Side airbags are not required in vehicles, nor governed by the NHTSA.
"Having been involved in a serious rollover accident with my wife a few years ago, I know the importance of properly restraining yourself while behind the wheel," says Bruce L. Scheiner, founder and senior attorney of Associates and Bruce L. Scheiner, Personal Injury Lawyers. "While airbag systems have been shown to reduce serious injuries and fatalities in the event of a crash, there are certain conditions in which they can actually create an injury."
The team of expert accident lawyers and support staff at the firm has decades of experience representing those who have been seriously injured in crashes. They urge you to buckle up, and to be sure you are driving a vehicle in which the airbag restraint system is correctly positioned in relationship to the proximity of the driver and passenger. We invite you to learn more by calling us at 1-800-Dial-BLS, or visiting our website at www.focusedonjustice.com.