We are entering the height of hurricane season in Southwest Florida and that means any number of additional dangers on the road.
NBC-2 reported a motorist escape injury last week after crashing a car into deep standing water in a field in Fort Myers. The incident illustrates the risks drivers face anytime they leave the roadway during rainy season in Southwest Florida, where standing water, retention ponds, and hundreds of miles of canals, rivers and inlets pose unique risks to motorists.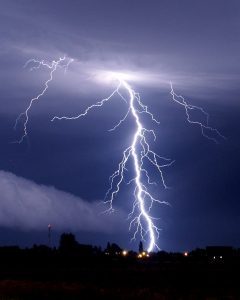 In a separate incident, six people were hurt after lightning struck the rooftop of an apartment complex. In that case, the injured were working on the roof. One woman fell two stories. Another victim fell from a ladder and struck his head on the pavement.
Fort Myers injury lawyers know there are a number of common scenarios in which weather increases the risks of a serious or fatal traffic collision, or increases the chance of injury.
SWFL Car Accidents and Weather Risks
When we think about severe weather, we typically focus on the risks of hurricanes as rainy season in Southwest Florida reaches its seasonal peak. However, there are a number of far more commonplace weather scenarios that frequently result in serious or fatal injury.
Reduced Visibility: Heavy rains can reduce driver visibility to zero. Drivers who encounter severe weather are encouraged to pull off the roadway (beneath an overpass can be a particularly good location) during a storm. Reducing speed in bad weather or poor visibility is always a good idea. However, when slow speed becomes a safety issue as it relates to potential rear-end collisions, a driver is best served by pulling over and waiting it out. Most rainstorms in Southwest Florida are brief.
Standing water: Flooding and standing water are common this time of the year, even long after a storm has passed. Motorists should never drive into water if they cannot clearly see the roadway. Even a few feet of water can float a vehicle off the roadway.
Canals: Driving into a canal can be deadly. Drivers should roll the window down and escape as quickly as possible. In cases where a window is inoperable, it may be possible to break the door glass using the edge of your seatbelt in your fist, or other available object. Drowning and alligators are common secondary risks of driving into the canals of Southwest Florida.
Lightning strike: Southwest Florida is the lightning strike capital of North America. It is not unusual for hundreds of lightning strikes to occur during a thunder storm. At sporting events, school activities, and other organized events, the safety of patrons is largely in the hands of event organizers. While SWFL agencies have invested heavily in lightning warning systems, responsible outdoor event hosting remains key when it comes to reducing the risks associated with lightning.
At Associates And Bruce L. Scheiner, our injury lawyers in Fort Myers and Cape Coral have been representing accident victims since 1971 and have extensive experience litigating personal injury and wrongful death claims stemming from weather-related incidents throughout Lee, Collier, Charlotte, Hendry, Glades and Monroe counties.
If you or a loved one is injured, call Associates and Bruce L. Scheiner, Attorneys for the Injured, at 1-800-646-1210.