Love them or hate them, the roundabout is here to stay.
An increasing number of communities in Southwest Florida are incorporating roundabouts into their master plan, even as municipalities consider installing the traffic-calming features, which have long been standard in much of Europe.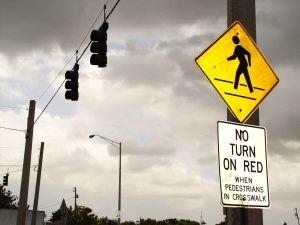 Even historic McGregor Boulevard may get a roundabout.
Our car accident attorneys in Cape Coral and Fort Myers know motorist opinions are mostly influenced by unfamiliarity and uncertainty. The truth is, roundabouts provide significant safety enhancements when designed and constructed properly, and are more visually pleasing than an intersection strung with traffic lights.
Roundabout Safety at Intersections
According to the Insurance Institute for Highway Safety:
Safer than signals and signs: Not only are drivers forced to slow down, but turning crashes and head-on collisions are unlikely.
Traffic and environmentally friendly: Less idling is good for the environment, and typically reduces commute times compared to waiting at a traffic light.
Walker friendly: Pedestrians must cross only one direction of traffic at a time. Crossing distances are shorter. And central parks are not only visually pleasing, they allow for rest stops and make walkers less anxious and less likely to hurry.
While the U.S. has been slow to adopt roundabouts, they are now one of the 20 approved safety enhancements backed by the Federal Highway Administration for a number of reasons:
Injury crashes have been reduced by as much as 80 percent, according to studies of intersections in the United States converted from traffic signals or stop signs to roundabouts.
Crashes at high-speed rural intersections in the U.S. have been reduced by as much as 85 percent by the installation of roundabouts.
Conversion of just 10 percent of the nation's intersections to roundabouts would have reduced the number of crashes by 51,000 in 2018, including 231 fatal crashes and about 34,000 crashes involving injuries.
Roundabout Safety Tips
Still, only about one-third of drivers say they favor roundabouts. Understanding how to safely travel through roundabouts can help reduce the anxiety.
Slow down when approaching a roundabout. Most roundabouts are designed to force drivers to reduce speed by about 20 mph.
Pick a lane as you approach a roundabout and stay in your lane.
Yield to traffic in the roundabout.
Larger vehicles need more space in a roundabout. Give them room.
Keep moving in a roundabout. Don't stop. The view of approaching drivers can be obstructed by the curve.
Pay attention for vulnerable road users – including walkers, cyclists and motorcycle riders – just as you would at an intersection.
Our car accident attorneys in Fort Myers and Cape Coral expect to see a lot more roundabouts in coming years. NBC-2 reports the new roundabout at Gateway Boulevard and Commerce Lakes Drive has caused some confusion.  However, as they become more commonplace, we believe the reduced road risks will be well worth the effort to adjust to these critical traffic-calming features.
If you or a loved one is injured, call Associates and Bruce L. Scheiner, Attorneys for the Injured, at 1-800-646-1210.