Usually when spouses find themselves on opposite sides of the courtroom, it's a family law issue: Divorce, child custody, alimony payments and the like.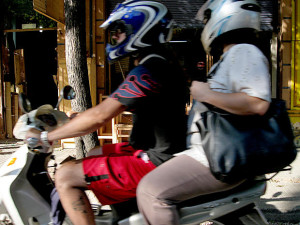 But there are some situations in which spouses who love each other very much and indeed intend to stay together might need to square off in a courtroom – and it's truly nothing personal.
It has to do with the fact that individuals cannot sue insurance companies directly for personal injuries. That leaves plaintiffs sometimes no choice but to sue the negligent person – and sometimes that includes a relative, close friend or even a spouse. The insurance company provides indemnification for the defendant and will be required to pay the judgment to plaintiff if defendant is found liable. It is sometimes the only way a plaintiff can recover damages for medical bills, lost wages and ongoing pain and suffering. In the majority of cases, the parties involved remain on good terms.
One such case was that of Wood v. Wood, recently before the Maine Supreme Court.
According to court records, plaintiff was a passenger on a motorcycle driven by her husband. He does not dispute that he was negligent in causing the single-vehicle motorcycle accident that resulted in her injuries.
At the time, both husband and wife were named insureds on the same motorcycle insurance policy.
As part of the policy, insurer allowed for payment of up to $5,000 in medical bills for its insured. It ended up paying $5,600 for wife's injuries. None of these payments made any reference to the husband or a claim for damages.
However, that $5,600 was not the total cost of her losses.
Because she couldn't sue the insurance company directly, she had to file a claim against her husband for negligence. Jurors found the husband was negligent and awarded wife $50,000 in total damages and injuries sustained. The court entered that judgment.
Husband (as represented by insurance company's lawyers) moved to receive a credit for the $5,600 already paid. Trial court granted this request, while also awarding plaintiff prejudgment interest and costs.
However, plaintiff later appealed this offset of $5,600. She argued that amount was paid to her as an insured, not as part of the claim made against her husband.
It should be noted that insurance companies are allowed to make advanced payment on claims without conceding liability. This is one way the courts encourage insurance companies to compensate accident victims in a timely way.
However in this case, plaintiff asserts this was not an "advance payment," but rather payment under the policy that covered her as an insured, even as the matter remains in dispute. If plaintiff later wins, the insurance company can receive an credit offset for the earlier-paid amount.
It's a unique situation where plaintiff is recovering both personal benefits and damages from a defendant derivative of the same insurance policy. But the state supreme court in Maine ultimately found the lower court hadn't properly weighed the question. The credit offset decision was reversed and the case remanded for further consideration as to whether the $5,600 was paid in furtherance of wife's coverage or as an advance payment on husband's liability.
Call Associates and Bruce L. Scheiner, Attorneys for the Injured, at 1-800-646-1210.
Additional Resources:
Wood v. Wood,  Nov. 3, 2015, Maine Supreme Court
More Blog Entries:
Injury Lawsuit Against 12-Year-Old Gives Woman "Worst Aunt" Label, Nov. 1, 2015, Cape Coral Motorcycle Accident Lawyer Blog