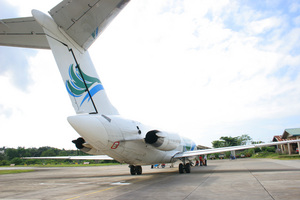 If you knew how many times you've been onboard a flight that should not have been allowed to leave the runway, chances are you'd be far more concerned about airline safety.
According to a study conducted by USA Today and released on February 2, there are an alarming number of flights with mechanical and safety problems that are given clearance to take off when they should have remained on the tarmac. The newspaper's six-month study found that millions of air travelers were on approximately 65,000 commercial carrier flights that should never have left the ground because the planes had not been properly maintained.
The Federal Aviation Administration, (FAA), the government entity which oversees airline safety compliance, has fined or has proposed fines against 25 commercial air carriers totaling over $28 million. The fines are related to maintenance violations, and occurred over the past 6 years. The most egregious offenses were by Southwest Airlines, which was fined $7.5 million last March. The airline operated 46 aircraft on almost 60,000 flights during 2006 and 2007 without having them undergo mandatory fuselage inspections intended to detect cracks in the body of the planes. The FAA determined that 6 of the planes did have cracks in the fuselage – and also that even though Southwest was aware they had not followed the required inspection routines, they continued to operate the same 46 aircraft for an additional 1,451 flights.
"As a licensed pilot, I can assure you that these are some scary and blatantly shocking issues that are being reported," says Bruce L. Scheiner, founder and Senior Attorney at the personal injury law firm that bears his name. "And sadly, the FAA does not always document each incident in which a plane with a potential safety issue related to shoddy maintenance has taken off. The potential for a tragic crash is overwhelming."
The newspaper's report goes on to say that the cause of the majority of the improper maintenance procedures stems from the airlines' contracting with outside service providers to take care of aircraft repair work. The sheer numbers of planes, some of which have been in service for a considerable amount of time, make it impossible for the carriers to undertake all of the maintenance and repair issues in-house. Many carriers utilize overseas shops and mechanics that may be less than adequately trained to handle the job, the report says. Although the FAA is charged with overseeing all maintenance and repairs to the country's fleet of aircraft, the research has indicated that their efforts are far from adequate. The Department of Transportation's Inspector General, Calvin Scovel, has identified many serious maintenance deficiencies during the past nine years. In November, Scovel told a House subcommittee that it "may be months or even years" before FAA inspectors do an on-site review of a repair station after it's approved for use by an airline. "As a result of FAA's flawed approval and untimely inspection processes, maintenance problems either went undetected or reoccurred," the inspector general said.
Associates and Bruce L. Scheiner Personal Injury Lawyers, P.A. has a team of licensed pilots and credentialed investigators to aid in the fact-finding related to injuries caused by an aircraft crash. With nearly 40 years of personal injury trial experience and a history of fighting for justice on behalf of its clients, the firm is prepared to aggressively represent your legal rights should you or someone you love fall victim to an accident caused by an improperly maintained aircraft. For more details about the results we have achieved for our clients, visit www.focusedonjustice.com, or call 1-800-Dial-BLS.
For updates on this topic and others, subscribe to the Florida Injury Lawyer blog at the top of this page.