Drive safely and abide by all traffic laws this weekend because the Florida Highway Patrol will be out in full force during the long weekend in an effort to reduce the number of car accidents in Fort Myers and elsewhere throughout the state.
The holiday weekend officially begins this afternoon and goes through midnight, July 4.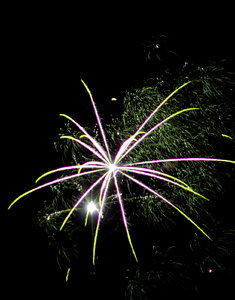 As we recently discussed on our Florida Injury Blog, it's estimated that nearly 40 million people will be traveling during the holiday weekend. We not only see an increased amount of traffic during this time of the year, but we also see and increased number of serious, and fatal, car accidents.
Our Cape Coral car accident attorneys ask that all motorists be safe and alert on our roadways throughout the entire weekend. Your risks of being involved in a car accident during these three days greatly increases, compared to any other weekend out of the year. As a matter of fact, the Fourth of July has consistently been ranked as the number one deadliest holiday weekend on our roadways. You are urged to drive safely and legally this holiday weekend not only to avoid a traffic ticket, but to avoid a traffic accident.
"The Florida Highway Patrol is committed to making Florida's highways safer, and we plan to do that by bolstering our forces to reduce the number and severity of crashes," said FHP Director, Col. David Brierton. "Our troopers will take appropriate enforcement action on those drivers who put themselves and others in danger. We want everyone to have a safe traveling experience in our state as they enjoy the holiday weekend. I encourage motorists to do their part by complying with all traffic laws and making sure everyone in their vehicle is buckled up."
Everyone on the force will be patrolling the interstates and other major state roads over the weekend. FHP Auxiliary and Reserve troopers will be volunteering their time to augment the Patrol's forces during the holiday enforcement period, too. The force aims to increase their presence throughout the state in an effort to deter traffic violations and accidents. They're also available to help motorists who break down or who may need other assistance.
The FHP would also like to take this time to ask motorists to check their tires before venturing out this holiday weekend. We've discussed the consumer advisory, released by the U.S. Department of Transportation, recently on our Florida Injury Lawyer Blog. The hot summer weather and under-inflated tires can be a deadly combination. Driving long distances in our Florida heat can cause a vehicle tire to deteriorate, which can lead to blowouts and tread separation.
Here are some safe driving tips for your Fourth of July weekend:
-Check your tires. Check your tire pressure and the condition of your tires before you leave for a road trip.
-Check your battery. If your battery is old, toss the jumper cables in the trunk before you leave. or better yet, invest in an little preventive maintenance and a new battery.
-Turn on your lights. Check your headlights, taillights and turn signals before you start a trip. Have a friend walk around the car while you test the car lights and signals from the inside.
-Bring along a first aid kit and roadside assistance kit.
-Don't drink and drive. Designate a driver or call for a cab if you're drinking.
-Wear your seat belt. Seat belts help to save lives.
-Obey all traffic laws.
-Make sure you've got your proof of car insurance. Whether you are traveling close to home or out-of-state, you should always have your proof of car insurance in your glove box. It's also a good idea to keep a disposable camera, note pad and pen in your car, just in case you get into an accident.
Our Fort Myers car accident attorneys would like to wish you a safe and happy Fourth of July and ask that everyone be extra careful on our roadways throughout the entire weekend.

Associates and Bruce L. Scheiner, Attorneys for the Injured, has spent four decades fighting for the rights of car accidents throughout South Florida, including Fort Myers, Cape Coral, Naples, Port Charlotte and Sebring. Call for a free and confidential consultation to discuss your rights. 1-800-283-2900.

More Blog Entries:
Fort Myers Fourth of July Traffic Could Be Hectic, So Avoid Car Accidents , Florida Injury Lawyer Blog, June 30, 2011
Sunshine State Ranks in Bottom for National Drivers Test Scores, Florida Injury Lawyer Blog, June 18, 2011