Burn injuries in Fort Myers and elsewhere in South Florida are among the most painful and medically complex catastrophic injuries a law firm can handle.
Fireworks accidents in Fort Myers are just one cause. The Florida Department of Health reports children and teenagers are the most likely victims. In fact, the Centers for Disease Control and Prevention reports more than 400 children and teenagers are treated for burn injuries of all types in U.S. emergency rooms every day.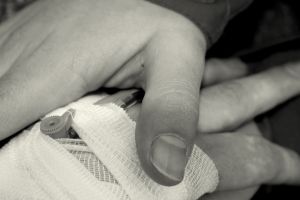 Two-thirds of firework injuries in Florida are to the face, hands and arms. Burns account for nearly 40 percent of injury cases. In 2005, more than 200 emergency room cases were reported involving fireworks in Florida — nearly all of them around the Fourth of July.

Other common causes of Florida burn injuries handled by Fort Myers burn injury lawyers include:
-Scald Burn Injuries
-Electric Burns
-Chemical Burns
-Gas Grill Accidents
-Gas Explosions
-Car Accidents
Burn injuries may include injuries of the first-degree, second-degree, third-degree or fourth-degree:
First Degree Burns: Affect the epidermis — or the outer layer of skin. Pain, swelling, tingling and hypersensitivity are common. The wound is typically red and dry.
Second Degree Burns: Affects both the epidermis and the dermis; thus called partial thickness burns. Extreme pain, redness, swelling and blistering. Weeping at the surface is also common, as is substantial scarring. Common causes include flash injuries (such as explosions), scalding liquids and flame injuries.

Third Degree Burns: Extreme burns, affecting the entire thickness of skin and underlying muscle tissue; destroys sweat glands and hair follicles. May not be as painful as second-degree burns, due to nerve damage. Burned skin may be brown, white, yellow, red or a leathery black. Extensive medical care required, and may involve skin grafts and lengthy hospitalization.
Fourth-Degree Burns: (May also be characterized as fifth-degree or sixth-degree burns) are life threatening. Burning reaches the bone and the skin is permanently lost. Sometimes associated with lost limbs and amputations. Often caused by high-voltage electric. Can also be caused by prolonged flame contact, as in a house fire.

Associates and Bruce L. Scheiner, Attorneys for the Injured, is a law firm dedicated to representing accident victims in personal injury and wrongful death claims throughout South Florida, including Fort Myers, Cape Coral, Naples, Port Charlotte and Sebring. Call for a free and confidential consultation to discuss your rights. 1-800-283-2900.