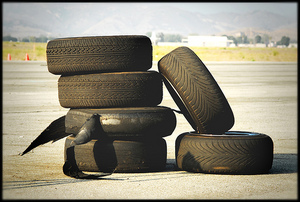 Older Tires Pose a Serious Safety Threat
When you buy a set of tires that are advertised as "new", you expect that, at most, they may be a few months old. However, recent research and investigations have discovered that some retailers are selling so-called new tires that have been sitting in a store or warehouse for years – sometimes 7 years or longer. When a Ft. Myers woman on the staff of Associates and Bruce L. Scheiner, Personal Injury Lawyers went to have new tires installed just before Christmas, she found that the retailer installed two tires manufactured in 2009 and 2 tires manufactured in 2007. These were to be 4 matching tires. While this may not seem like an important detail, the alarming fact is that old tires can pose a real threat to those who use them.
Today, the Ft. Myers News-Press reported that Nicholas Contessa, 58 of Fort Myers, died while driving a 2000 Chevy Blazer southbound on I75 when his right rear tire blew out causing him to lose control of his SUV. The SUV went into the median, overturned and collided with a guardrail. He suffered head injuries and was pronounced dead at the scene. Although it has not yet been determined whether the tires were "new", it does point out the need for consumers to be diligent when dealing with their tires and their safety.
An investigative report by ABC News revealed the story of a young man in Toronto who took the family van out with some of his friends. The young man's father had recently purchased new tires for the vehicle, and had every reason to believe his son and his companions would be safe on the road. Sadly, a crash occurred when the tire's tread separated from the tire while traveling on the highway. The son lost control of the van – and tragically, lost his life as well.
Law enforcement investigators on the scene found that there were no visible defects or abnormalities with the tire. Yet further investigation revealed that the tires, which the father had been told were new, were actually 4 years old. While this may not seem like an inordinate amount of time to keep a tire on the retailer's inventory, laboratory tests have uncovered that old tires loose some of the elasticity after a certain amount of time, and the drying out of the rubber can cause the treat to simply fall off the tire.
The dangers of "aged" tires, while beginning to come more into public view, remains a little known problem outside of the industry, and one that could be the cause of a significant number of tread separation problems. "Aged" tires are often unsuspectingly put into service after having served as a spare, stored in garages or warehouses, or simply used on a vehicle that is infrequently driven. In many instances, these tires show no visible sign of deterioration, and absent any visible indicators, tires with adequate tread depth are likely to be put into service regardless of age. Physical and chemical properties of tires change over time, regardless of use. Studies show that tire performance can start to degrade after six years – even if tires haven't been used. According to SRS, Inc. (Safety Research & Strategies) a Massachusetts-based auto-safety research firm, 108 accidents are linked to tread separation of tires more than six years old, which resulted in 85 deaths. The National Highway Traffic Safety Administration, (NHTSA), is conducting tests on new tires to determine their durability and developing future tests to simulate aging. The agency began requiring manufacturers to print the manufacture date on tires in September 2009. BMW, Ford Motor Co., DaimlerChrysler, Toyota Motor Corp. and Volkswagen have all backed guidelines that tires should only be in service six years.
In Florida, undercover television investigations found big-name retailers like Sears and Wal-Mart selling old tires as new. Currently, there are few if any laws mandating that manufactures or retailers stop selling the tires after they reach a certain age. However, there is some activity in this direction. According to SRS, Inc. of Massachusetts, one of the nation's first laws to require tire dealers to disclose the age of each tire prior to sale or installation was passed in May, 2009, by the Assembly Business and Professions Committee by a vote of 6 to 4 in California.
The other problem is that while there are numbered codes on each tire to indicate the date it was made, the codes are difficult to find and even more confusing to figure out. The codes use numbers that indicate the week and year the tire came off the production line. For example, a tire made the 32nd week of 2001 would contain the code "3201". This may be industry knowledge to those in the tire business, but consumers are not made aware of it.
"Tread separation has been a problem with tires for years," says P.J. Scheiner, personal injury lawyer at Associates and Bruce L. Scheiner Personal Injury Lawyers, P.A. "The current manufacturing process calls for the tread and tire itself to be made as two separate pieces, and then the tread is adhered to the tire. But new information about the age of the tire and the added dangers of deterioration of the rubber can render a seemingly new tire with plenty of tread life into a ticking time bomb."
Florida personal injury lawyers urge you to check your tires for the manufacture date, and be especially wary of using a spare tire that may have been in your trunk for a number of years. If you have suffered a serious injury involving tire tread separation, the vehicle safety law experts at Associates and Bruce L. Scheiner Personal Injury Lawyers have almost four decades of experience of fighting for justice for the victims of faulty tire manufacturing standards. To learn more, visit www.focusedonjustice.com or call 1-800-Dial-BLS.