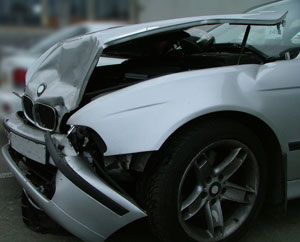 If you've been responsible for causing three crash-related moving violations over a three-year period, be prepared to receive a costly education.
Beginning January 1st, state legislators and law enforcement agencies have started to enforce a new law that will cancel the driver's licenses of those who have been convicted of three accident-related moving violation citations within a three-year span. In order to get their licenses back, the offender will have to successfully complete a 16-hour educational course, at the cost of $548.00.
If you've been cited for a crash-related violation within the past two years, the clock is already ticking – the new law goes back to offenses incurred since 2007. Before the new law was enacted, a 4-hour educational online course was necessary for those committing two accident-related moving violations over a two-year period, but did not require any actual behind-the-wheel testing. The new law, to be administered by private driving schools, is designed with more stringent requirements, and failure to comply with and successfully pass the course will result in the continued suspension of your driving privileges. The 16-hour course must be completed within 90 days of notification, and includes 4 hours of behind-the-wheel driver evaluation.
"Between drunk driving crashes, people distracted by cell phones and other emerging technologies and those who are just reckless drivers, there are real dangers for every motorist on Southwest Florida roadways", says local personal injury attorney
P.J. Scheiner, of Associates and Bruce L. Scheiner Personal Injury Lawyers, P.A. "This new crackdown will hopefully be a wake-up call to those who habitually cause crash-related motor vehicle accidents."
The new law is intended to improve the habits of Florida's worst drivers, according to the state's Department of Safety and Motor Vehicles. "In an effort to make our roads safer, those who display a pattern of poor driving ability or judgment will be required to complete a driver improvement course," DHSMV Executive Director Julie L. Jones said in a news release. "The new law is designed to modify the behavior of some of our worst drivers." The National Highway Traffic Safety Administration estimates that a crash in the United States costs an average of $38,000. During the 36-month period that ended December 31, 2008, there were 3,277 Florida drivers with three or more at-fault crashes. That figure includes drivers from nearly every age group.
According to department estimates, more than 1,000 Florida drivers may be subject to the new traffic safety requirements in 2010.
Associates and Bruce L. Scheiner Personal Injury Lawyers has been fighting for the rights of those injured or killed because of the negligent or careless actions of another driver for almost 4 decades. With 7 area offices and over 100 attorneys and support personnel throughout Southwest Florida, their expertise and aggressive representation could be instrumental in helping victims attain the compensation they deserve, and crash victims pay no fees unless the firm is successful on their behalf. To learn more about crash victims' rights, visit www.focusedonjustice.com, or call 1-800-Dial-BLS.