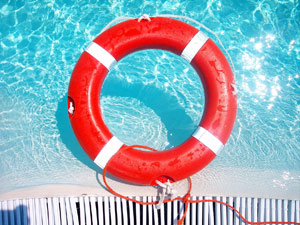 NBC-2 reported today that toddler twins in Port Charlotte, FL were found face down in a pool on Saturday. One died and one is in a coma. A three-year old child opened the sliding glass door which allowed the 13-month old toddlers access to the pool.
The latest study of child abuse deaths in Florida for 2008 was released at the end of December, and the facts and figures paint a grim picture for the potential for child deaths caused by drowning. The Florida Department of Health conducts the annual research report, and found that Lee County ranks second in drowning deaths of children below the age of 5 – there were 6 during 2008. This is the highest number of child drowning cases in at least 10 years. Broward County led the state with 8.
The report indicates that Florida leads the country in the unintentional drowning rate of children younger than 5, and that 70 percent of the cases involved happened in swimming pools. The report goes on to say that state health officials, along with the Department of Children and Families, are aggressively attempting to identify instances in which a child drowning was caused by poor adult supervision. It states that "children continue to die from drowning at an alarming rate as a result of inadequate supervision", and recommends a systematic approach to prevent further child drowning cases.
The saddest reality of the report is that child drowning cases are so easily preventable. The general belief of parents and those who supervise young children is that these cases are so rare, it could never happen to them. Even parents who have stated that they are vigilant in keeping an eye on their kids have fallen victim. Child safety advocates recommend having an adult whose sole function is to watch the kids who are in or near the pool at all times – not just glancing up while doing chores or talking on the phone.
Child safety experts recommend that homeowners have alarms, a four-sided fence and self-latching locks on all pool doors. If a child is missing, always check the pool first. If searchers first check a house for a missing child who has fallen into a pool, the interior search wastes minutes that could be used rescuing the child.
As a personal injury attorney with almost 4 decades of experience, Bruce L. Scheiner has unfortunately seen more than his share of accidental child drownings. "With the number of swimming pools in Florida, its no wonder that we lead the country in child drowning cases", says Scheiner, Senior Attorney and founder of Associates and Bruce L. Scheiner Personal Injury Lawyers, P.A. "With some common sense, the right precautions and more vigilant supervision, these catastrophic situations can be avoided."
The Lee County Health Department provides these additional pool safety tips:
• Install and maintain an isolation fence separating your pool from the house and play areas.
• Designate an adult to supervise children around water, especially at social gatherings.
• Never consider children to be 'watersafe' despite swimming skills, previous swimming lessons or experience.
• Floaties, swimmers or other inflatable flotation toys are not life jackets and should never be substituted for an adult's supervision.
• Toys, tricycles and other playthings must be kept away from the water's edge.
• Assure a clear view from the house to the pool or spa by removing vegetation or other obstacles.
• Always completely remove covers before using pool or spa. Lightweight, floating covers are not safety covers and will not support the weight of a child. A child could become trapped under this type of cover.
Don't allow your child to become a drowning statistic. Florida personal injury lawyers urge you to use caution and exercise proper safeguards when children are in or near a swimming pool.
Associates and Bruce L. Scheiner, Personal Injury Lawyers is there for you should you require assistance in a drowning case or any other personal injury case. The firm is focused on justice for you and your family. Contact us at 1-800-Dial-BLS or visit www.focusedonjustice.com Remember you pay us nothing unless you win.