A teen from Collier County is in critical condition after a recent ATV accident. According to FOX4, the teen was driving northbound on NW 19th Street when he says that a dog ran out in front of his ATV. He says that he swerved to avoid hitting the dog, lost control of his vehicle and flipped. He was thrown from the ATV in the process. He was taken to Lee Memorial Hospital where he is being treated for injuries sustained in the accident.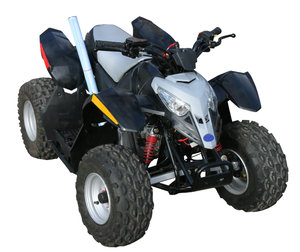 Our ATV accident lawyers understand that there were close to 500 fatal ATV accidents reported in the state of Florida from 1982 to 2010. According to ATVSafety.gov, there were more than 100 ATV fatalities reported from 2007 to 2010 in the Sunshine State. These vehicles are getting more popular and families are at risk because of it. The truth is that many ATV accidents could be prevented if riders were better educated of ATV safety measures.
According to Florida law:
-All ATVs that are being operated on public land are required to be titled. In the state of Florida, there is no registration required.
-Everyone who is riding an ATV who is under the age of 16 is required to wear a helmet and wear the proper eye protection at all times.
-Drivers of ATVs are not allowed to operate on paved roads.
In 2009, there were more than 780 ATV fatalities reported throughout the U.S. In addition to these fatalities, there were 135,000 people injured. Today, more than a million ATVs are used in the United States. Back in 1985, there were fewer than 500,000. Accident risks are higher than ever.
Many might think that ATVs are all fun and games, but the truth of the matter is that these vehicles are extremely dangerous. It's important for riders to have the proper training and to wear all of the proper safety equipment.
One of your best bets is to take a hands-on safety course. This is going to help you to learn how to properly control an ATV in a number of situations. Drivers who undergo this kind of training have lower accident risks than those who don't.
It's also important that you wear a helmet. This can help to reduce the severity of your injuries if ever involved in an accident. Your best bet is to select a motorcycle or other motorized sports helmet and make sure it's certified by the U.S. Department of Transportation (DOT) and/or the Snell Memorial Foundation.
Don't pile on the passengers. Most ATVs are only designed for one person. Drivers should always be able to shift their weight freely. When there's a passenger on board, that can be a whole lot harder and the ATV more difficult to control — increasing the risks for accidents.
Never drink and drive on your ATV. Alcohol and drugs impair a driver's reaction time as well as their judgment — and those are two essential skills for safe ATV use.
Never ride ATVs on paved roads. Not only is it dangerous, but it's against the law.

If you or someone you love has been injured in an ATV accident, contact Associates & Bruce L. Scheiner, Attorneys for the Injured, for a free and confidential consultation to discuss your rights. Call (800) 283-2900.

More Blog Entries:
ATV Safety: Park in the Works for Collier County, Florida Injury Lawyer Blog, September 13, 2012