As we previously discussed on our Fort Myers Injury Blog, students of all ages are heading back to school this month. While many of them take the school bus to school there is still quite a few that bike or walk. There are a number of hazards that a child will face during their journey to and from school that could result in child injury in Naples.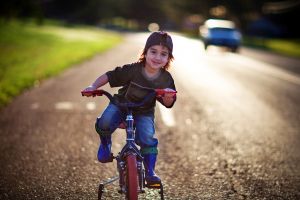 According to iWalk, there are about 25,000 student pedestrians injured on their way to school every year. The younger the student, the more at risk they are for being involved in a motor-vehicle accident on our roadways. Many children are unable to understand the flow of traffic and other dangers.
Our Fort Myers child injury attorneys would like to ask that all parents and teachers take a moment out of their day to discuss pedestrian and bicycle safety with their students. We also ask that school officials take a look at the most dangerous routes that our children take to school and consider ways to make them safer for our young ones, including traffic lights and crossing guards.
According to the Centers for Disease Control and Prevention, roughly 85 percent of children get to school each day by school bus, car or by public transit. A little more than 15 percent of trips are made to and from school on-foot or by bicycling.
Students who live within a two-mile radius of the school they attend are required to walk to school. Under Florida Statute 1006.23, school officials are required to examine these areas to ensure that hazards are kept to a minimum. These areas must meet state criteria to ensure they're safe enough for our young children.
The City of Cape Coral Police, the City of Fort Myers Police and the Lee County Sheriff's Department also assist with safety efforts. Cape Coral provides crossing guards from its own force where Fort Myers provides crossing guards from an independent contractor.
The National Safety Council offers these safety tips for children that walk to bike to school. Parents are urged to discuss these tips with their children as well:
Walking to School
-Never walk alone. Always walk with a group and with a responsible adult.
-If there isn't a sidewalk to walk on, walk facing oncoming traffic.
-Always cross the street at an intersection or at a street corner.
-Don't step off the curb until you look both ways to see if a car is coming.
-Keep looking left and right as you cross the street.
-Do not run. Always walk across the street.
-Never dart out in front of a parked car because oncoming drivers may not be able to see you.
Bicycling to School
-Make sure to always wear your helmet.
-Make sure that your helmet fits. Make sure that there is the width of two fingers between the bottom of your helmet and your eyebrows.
-Always ride on the right-hand side of the road in a single file line in the same direction as traffic.
-Always come to a complete stop before you cross a street.
-Wear bright colors so that drivers are more likely to see you during your early morning venture.
-Get out and practice. The more experienced you are on a bicycle, the less likely you are to be involved in a serious accident.

Associates and Bruce L. Scheiner, Attorneys for the Injured, is a law firm dedicated to representing accident victims in personal injury and wrongful death claims throughout South Florida, including Fort Myers, Cape Coral, Naples, Port Charlotte and Sebring. Call for a free and confidential consultation to discuss your rights. 1-800-283-2900.
More Blog Entries:
Fort Myers accident attorneys encourage parents to speak with teens during Teen Driver Safety Week, Florida Injury Lawyer Blog, October 10, 2010
School year begins; use caution in avoiding school bus accidents in Fort Myers, Cape Coral, Port Charlotte, Florida Injury Lawyer Blog, August 20, 2010