A recent pedestrian accident in Fort Myers left a teenager in critical condition at Lee Memorial Hospital, according to The News-Press. The 16-year-old pedestrian was trying to make his way across Palm Beach Boulevard by Orange River Boulevard when he was hit by a van. The accident happened around 7:00 a.m.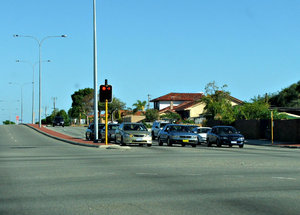 Officials with the Florida Highway Patrol (FHP) report that the driver of the van tried to brake and swerve to avoid hitting the young pedestrian, but he was unable to do so. The pedestrian was taken to Lee Memorial with what medical officials classified as life-threatening injuries. Law enforcement officials report that the driver of the van will not face any charges or traffic citations because the pedestrian violated the right-of-way to eastbound traffic. The accident delayed traffic in the area for about 2 hours.
Our Fort Myers pedestrian accident lawyers understand how common pedestrian accidents along our Southwest Florida roadways. As we recently reported on our Florida Injury Lawyer Blog, the state of Florida has been ranked as the number one most dangerous state in the country for pedestrian accidents. If you've been outside, you can see that our mid-winter weather is absolutely beautiful. While other states are dealing with snow and ice, pedestrians across the state are free to roam under the warm winter sun. With the increase in pedestrian traffic, we're likely to see an increase in the number of pedestrian injuries and fatalities. Motorists and walkers and urged to be cautious when traveling along our busy Florida roadways. Pedestrian accidents can be prevented with the proper safe traveling habits.
From 2000 to 2009, Lee County witnessed approximately 200 pedestrian fatalities, according to Transportation For America. Pedestrian fatalities accounted for about 20 percent of the recorded traffic-related deaths during this time period. Pedestrian deaths here are more than 40 percent higher than the national average.
Safe Kids of Lee and Collier County suggests that local and state officials enforce the following laws to help keep our young pedestrians safe:
-Reduce speed limits even more in residential neighborhoods. Neighborhoods are a common backdrop for young pedestrian accidents. The slower a vehicle is traveling at the time of impact, the higher the chances are for a pedestrian to survive.
-Better protection for pedestrians traveling on sidewalks. Sidewalks should be away from busy roadways.
-Offer more walkways and sidewalks for pedestrians. These pedestrian travel lanes help to keep pedestrians and motor vehicle traffic separate.
-Ban drivers from passing stopped school buses. Every year, many young pedestrians are hit while getting on and off the bus every year. Drivers need to exercise extreme caution in these areas as child pedestrians are present.
-Provide the community with more crossing guards at busy intersections. Crossing guards help to get pedestrians and motorists on the same page and provide safe organization of traffic for all.
-Require that all pedestrians cross streets and designated crosswalks only. Most fatal pedestrian accidents happen at non-intersection area.
Each year, almost 650 pedestrians are killed while walking. Streets are the number location for these types of accident, but don't forget that pedestrian accidents can happen in a number of other spots, including on sidewalks, in parking lots and on driveways.

Associates and Bruce L. Scheiner, Attorneys for the Injured, is a law firm dedicated to helping those who have been victims of pedestrian accidents in Fort Myers, Bonita Springs, Naples, Cape Coral and elsewhere through South Florida. Call us today for a free and confidential consultation to discuss your case. 1-800-283-2900.
More Blog Entries:
Video Campaign Illustrating Pedestrian Accidents in Florida Deemed Too Graphic by Senator, Florida Injury Lawyer Blog, November 28, 2011
Bicycle Accidents in Cape Coral a Risk as Bike Lane Debated, Florida Injury Lawyer Blog, November 14, 2011