A recent motorcycle accident in Volusia County took the life of a 50-year-old Fort Myers woman, Sabra Vocaturo. She was killed when she was hit from behind by an SUV late Sunday on State Road 415, according to WESH.
Accident reports indicate that debris found at the scene of the accident revealed that the SUV that hit the Fort Myers woman was a 2011 or a 2012 Infiniti QX56 SUV. The vehicle is now missing its lower left part of the bumper cover. Officials believe that the headlight on the left side of the car may also be damaged. If you have any information regarding this hit-and-run Florida motorcycle accident, please contact the Florida Highway Patrol (FHP) at 407-737-2213.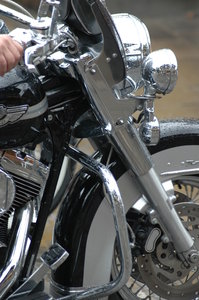 From 1993 to 1997, there were 278,078 drivers who were involved in fatal accidents in the United States, according to Unlicensed to Kill. Of these fatal accidents, 1,501 drivers left the scene of the accident and left their vehicle at the scene. Of the drivers involved in these fatal accidents, about 38,000 drivers were not properly licensed. Of those who were not properly licensed, about 15 percent of them fled the scene. There are a number of reasons as to why drivers leave the scene of an accident, including not being properly licensed, being under the influence of drugs or alcohol, having immigration issues, for not being properly insured.
Daytona Beach Bike Week is quickly approaching and our Florida motorcycle accident attorneys would like to remind motorists that with this event thousands of bikers from across the country will be traveling through Florida. This year marks the 71st anniversary of the "World's Largest Motorcycle Event" which will be held from March 9th through March 18th. Harley-Davidson Insurance is presenting this year's event.
Activities going on at this year's Bike Week include motorcycle stunt shows, vendors, food, bike safety events and manufacturer displays. Riverfront Park will also be displaying performances from live bands and will again host the Official Bike Week Headquarters. There will also be a Bike Week Treasure Hunt, a Bike Week Community Appreciation Parade and a Harley Davidson Custom & Classic Motorcycle Ride-In Show Presented by America Iron Magazine.
Yes, motorcyclists will be out in force on our roadways during the Daytona Beach Bike Week, but this event is used to help raise awareness about the motorcycle traffic we see on our roadways year round. Florida has some of the most beautiful weather in the country and it attracts riders from across the nation year round.
For these reasons, it's no surprise that Florida is one of the most dangerous states in the nation for motorcycle accidents. As a matter of fact, Florida ranked second as the deadliest state in the country for these accidents in 2009, only behind the state of Texas, according to the National Highway Traffic Safety Administration (NHTSA).
We ask all travelers in the state, including truckers, car drivers, motorcyclists, bicyclists, pedestrians and motorcyclists, to share the roadways with one another safely and effectively. We have great weather year round and we should be able to enjoy the benefits without worrying about death and injury from irresponsible drivers on our roadways. Work together for safer travel.

Associates and Bruce L. Scheiner, Attorneys for the Injured, has spent four decades fighting for the rights of motorcyclists all throughout South Florida, including Naples, Cape Coral, Fort Myers, Port Charlotte, Sebring and elsewhere. If you or someone in your family has been injured or killed in a motorcycle accident in South Florida, call for a free and confidential consultation to discuss your rights. 1-800-283-2900.
Additional Resources:
Motorcyclist Injured in Fort Myers Accident: Motorist Caution Requested through Holiday Season, Florida Injury Lawyer Blog, January 1, 2012
Antilock Brakes: Preventing Motorcycle Accidents in Fort Myers and Elsewhere, IIHS Says, Florida Injury Lawyer Blog, November 17, 2011