For close to 10 years, Collier County residents have fought for a safe place to ride their all-terrain vehicles (ATV). Now, officials have set aside $3 million for an ATV park in the area and plans are finally moving forward. According to ABC 7, there's an advisory committee, consisting of 5 people who are working to make this a reality.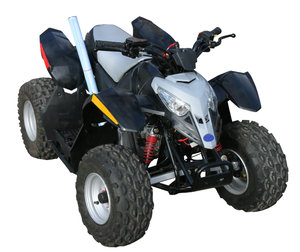 "There's really no place safe to do it here in Collier County," said Felix Garcia, member of the ATV committee.
ATV accidentsin Collier and Lee County can happen for many reasons. Whether riding on the road (which is often illegal) or riding through farm fields and orchards, understanding the risks and taking the proper safety precautions is critical to avoiding injury.
An 11-year-old girl was killed back in May after an ATV accident in Golden Gates Estates. Just a few weeks before that, two young riders were injured when their ATV was hit by a motor vehicle. Unfortunately, these riders don't have many places to go, and they're at serious risks because of it.
Garcia says that they're forced to ride on the road near vehicular traffic because they don't have a safe place to go. Off-roading is a fun an exciting sport, but it can be dangerous when there are no facilities for this activity. Commissioners in Collier County agree. Commissioner Jim Coletta says that Collier County needs a safe place for these riders. Advocates contend there are safe places to boat, safe places to play sports and there's should also be a safe place for ATVs.
Right now, county commissioners are working diligently to find the land for these riders. There have already been a number of possible areas scoped out in Immokalee, Golden Gate Estates, Hendry County and even near the East Trail. Still, there is nothing set in stone.
Now, commissioners will have to talk with the owners of these potential properties and see if they can work out a deal. Even after the land is secure, it will take years to get the land permitted, designed and constructed.
State ATV Laws:
-All ATVs that are being operated on public land are required to be titled. No state registration is required.
-Riders who are under the age of 16-years-old are required to wear a helmet as well as eye protection at all times.
-The use of ATVs are prohibited on paved roads.
-To ride unsupervised in Florida, operators must be 16-years-old. Riders under 16 must have a safety certificate.
In the state of Florida, there were nearly 500 people who died in ATV accidents from 1982 through 2010, according to ATVSafety.gov. From 1982 to 2006, there were more than 100 kids under the age of 16-years-old who were killed in ATV accidents.
Injuries as a result of four-wheeler or ATV accidents can be quite serious, and may include broken bones, traumatic brain injuries and spinal cord injuries. With a track or not, riders are always urged to keep safety as a number one priority. Make sure that you always wear the appropriate protective gear, that you're abiding by all state laws and that you ride responsibly and defensively.

If you or someone you love has been injured in an ATV accident, contact Associates & Bruce L. Scheiner, Attorneys for the Injured, for a free and confidential consultation to discuss your rights. Call (888) 579-8699.
More Blog Entries:
Companies can be liable for injured children even if parents sign waiver, Florida Supreme Court rules, Florida Injury Lawyer Blog, February 5, 2009