A fatal bicycling accident in Sanibel is still being investigated by the Florida Highway Patrol. The accident, which occurred last week, killed a 46-year-old Fort Myers cyclist and caused the Sanibel Causeway to close for several hours, according to the Sanibel-Captiva Islander.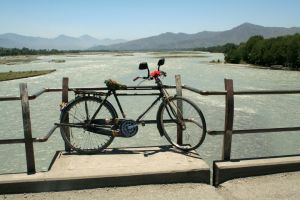 Police report that a Fort Myers couple was riding their bikes along the causeway a little before 11:00 a.m. last week when a truck drifted into the bike lane and struck the couple. One of the bicyclists flew into the guardrail and into the San Carlos Bay.
Our Fort Myers bicycle attorneys would like to remind bicyclists that Florida is among the most dangerous states for riders. The spring and summer months bring out bicyclists of all ages, both residents and tourists. Motorists may not be the only threat to bicyclists as bike rental companies have been known to rent out defective equipment that can show signs of poor maintenance and put your safety at risk.
After being tossed into the bay, the victim was pulled from the water by boaters traveling nearby. Unfortunately, attempts to revive the bicyclist were unsuccessful.
The truck driver was not injured in the accident.
Florida Highway Patrol Sgt. Owen T. Keen says that the patrol unit is still investigating whether or not the driver fell asleep at the wheel. It has also yet to be determined if the driver was under the influence of medication or suffered from any medical condition which may have triggered the accident.
"Something terribly went wrong and caused this crash," said Keen.
Charges against the driver have not been filed.
In honor of the fallen bicyclists and the two bicyclists from Estero who were killed in late February, the Caloosa Rider and the Bonita Bay Bicycle Club will dedicate their annual their "Ride Of Silence" to these four local residents.
The "Ride of Silence" is used to memorialize riders that have been injured or killed as it aims to draw motorist's attention to the legal rights of bicyclists. They strongly urge motorists to keep a watchful eye for all cyclists.
According to the National Highway Traffic Safety Administration, more than 700 bicyclists were killed, and 52,000 injured, in traffic-related accidents in the United States in 2008. Bicyclists make up 2 percent of all traffic fatalities and 2 percent of all traffic-accident related injuries each year. In 2008, Florida witnessed nearly 150 bicyclist fatalities because of traffic-related accidents. As Florida provides beautiful weather all year long, motorists are urged to keep a look out for bicyclists at all times on all roadways.

If you or a loved one has been involved in a motor-vehicle-related bicycling accident in Fort Myers, Cape Coral or Naples, contact Associates and Bruce L. Scheiner, Attorneys for the Injured, today for a free and confidential appointment to discuss your rights. Call 1-800-Dial-BLS.