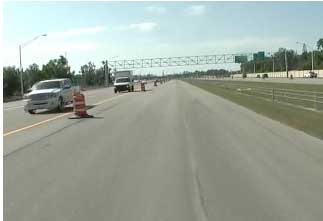 Naples Man killed after hitting uneven pavement
Last Sunday, October 11, 2009 a Collier County father of two, Derren Kelly lost control of his vehicle after overcorrecting when he encountered uneven pavement on I-75 near mile marker 105. Even an experienced driver, as Mr. Kelly was having driven charter buses, can experience road construction hazards.
The iROX paving project will continue over the next few months with crews first working on all the northbound lanes then the southbound lanes. There will be uneven pavement until the project is completed. Please stay informed. (iROX news about construction and lane closures can be found by clicking here.)
Attorney P.J. Scheiner of Associates and Bruce L. Scheiner, Personal Injury Lawyers warns motorists to slow down and be careful. Driving in a construction area is not the same as normal driving. It requires attention and extra caution. Be alert – stay alive.
Since 1971, Associates and Bruce L. Scheiner Personal Injury Lawyers has been focusing on justice. Contact us at 1.800.DialBLS or www.focusedonjustice.com. You pay us nothing unless we win.