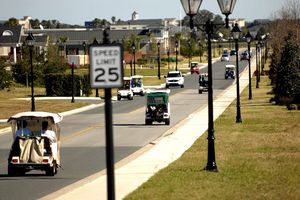 Injuries can Occur from Improper Use, Coexistence with Cars
Southwest Florida is a haven for those who love the game of golf, and the number of local golf course communities rank the area as one of the highest in holes-per-capita in the country. Where there is golf, there are golf carts. In today's troubled economic times, there is a move to utilize golf carts as a primary mode of transportation, even on local roadways. The electric vehicles offer an attractive alternative to the family gas-guzzler, yet many are unaware of the potential dangers of using them on anything other then golf course pathways.
The types of golf carts found at the local course are not legal for street use. There have been tragic accidents when they are used on public roadways. In July, a man from Sebastian, on the east coast of Florida, was seriously injured after the golf cart he was driving on a public street was rear-ended by a van. The cart had no lighting. The van driver being unable to see it, smashed it and its two passengers into a roadside ditch. Florida Highway Patrol Troopers also say alcohol was a factor in the accident.
In many Southwest Florida golf communities, golf carts and motor vehicles coexist, and the potential for a serious accident is great. Many residents think nothing of using their golf cart to zip down the block for cocktails at the neighbors, or to retrieve the shovel they loaned out last week. But unless the cart complies with some specific Florida state laws and is considered street legal, they are breaking the law, and opening themselves up for serious liability if involved in an accident. In Florida, a golf cart must be equipped with, among other safety items, head and taillights, rear-view mirror, windshield, horn, special brakes and seat belts. Additionally, the cart cannot weigh more than 2,499 pounds or exceed 25 mph. In fact, the Florida Department of Highway and Motor Vehicles has specific details related to these types of vehicles within their "converted golf cart / low speed vehicle category". Known as Form 86064, the affidavit required by the state can be found here: http://www.flhsmv.gov/dmv/forms/bfo/86064.pdf
Accidents Do Happen…
The June issue of The American Journal of Preventive Medicine reports that injuries from being hit by or falling off of golf carts surged 132 percent from 1990 to 2006. Nearly 150,000 people, ranging in age from 2 months to 96 years, were hurt in golf cart accidents during that time. The report's authors cite the reason as the increased use of golf carts in a variety of public settings, such as hospitals, fairgrounds, military bases, airports, and college campuses, among others. Basically, at any large area where people need to be transported from one point to another, golf carts make more sense than most other modes of transportation. In 1990 there were an estimated 5,772 golf cart injuries, but in 2006 that number had surged to 13,411. About 70 percent occurred at a sports or recreational facility. About 15 percent of injuries happened on the street, and those injuries were more likely to result in concussions and hospitalization. Another 15 percent occurred around homes or on a farm. The bulk of injuries involve people falling or being ejected from a moving cart. Stay safe and follow basic golf cart safety recommendations.
It May Look Like a Golf Cart…
With the rising price of gas and the increased efforts of some people to live a "greener", more ecologically friendly lifestyle, comes a whole new type of vehicle. A Neighborhood Electric Vehicle (NEV) is a battery-powered electric vehicle that falls under United States Department of Transportation classification for low-speed vehicles. The NEV operates by plugging into a standard outlet at home. Generally, they must be titled, insured and registered, and the driver must be licensed. Because airbags are not required, the NEV cannot normally travel on highways or freeways. A low-speed vehicle (LSV) is a legal class of 4-wheel vehicles that have a maximum capable speed typically around 25 mph, and have a minimum capable speed (typically 20 mph), that allows them to travel on public roads not accessible to all golf carts or neighborhood electric vehicles (NEV). The vehicles operate under very similar restrictions, but without the specification of battery electric power.
Local personal injury attorney P.J. Scheiner, of Associates and Bruce L. Scheiner Personal Injury Lawyers, P.A., cautions those who may think that running short errands in your golf cart or similar electric vehicle makes you less susceptible to being in a serious accident. "It's very tempting to feel that just because you're taking a short hop across the street to run to Publix, you won't get in an accident." says Sheiner. "The fact is that driving these vehicles requires the same adherence to traffic laws as does driving a regular car – and perhaps even more driver safety precautions, because of their small size."
If you or someone you know has suffered an injury involving a golf cart or electric vehicle, please call us at 1-800-Dial BLS, or learn more by visiting our website at www.focusedonjustice.com. Our highly trained attorneys and support staff specialize in vehicular accident law, and have been focused on justice for our clients for nearly four decades.