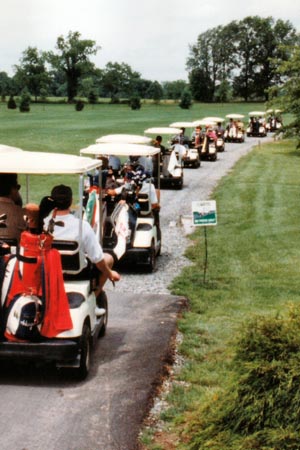 Everyone knows that if a heart attack or other life-threatening medical emergency strikes, the difference between life and death can be mere moments. In most cases, emergency first responders can access the scene quickly and easily, thanks to advances in technology, global positioning system (GPS) units and advanced training. But, what if you encounter a traumatic injury or serious health condition, and the paramedics can't find you?
Sadly, that was the case for avid local golfer Phil Hollar when he went out to enjoy a round of golf at a local course. He suffered a heart attack while on the 16th hole, and help was summoned. Unfortunately, although the responding EMTs were able to find the golf course community itself, actually locating Phil on the course proved to be far more difficult.
Phil's wife, Cher, told the local media that once on scene, there was no one at the facility's guard gatehouse to provide emergency workers with a layout or map of the course itself. This added precious minutes to the time it took to find him. In this case, those minutes proved to be fatal, and Phil's life ended, playing the game he loved so dearly.
Now, Cher has begun a campaign to make sure that does not happen again. Working with Lee County EMS, she has taken up the crusade to make sure there are measures in place to ensure emergency workers can pinpoint exactly where an emergency is taking place on the course. Some area courses have a comprehensive emergency plan in place, but it is not legally mandated that they do so.
As a result of Mrs. Hollar's initiative, Lee County EMS has visited the course to ensure they know the layout of the course, and the facility has provided them with maps of the course to better expedite emergency access. EMS personnel are contacting other local courses in hopes of putting together similar action plans. The need becomes more critical now, as the number of golfers increases dramatically with the arrival of the Southwest Florida tourist season. Mrs. Hollar said that while this is a definite step in the right direction, more needs to be done to ensure golf course facilities have a solid emergency plan in place, with all affected personnel trained to handle such an occurrence.
"What happened to the Hollars' is a tragic example of how a public facility needs to constantly and diligently work to protect the safety of those who use it," noted local personal injury attorney P.J. Scheiner, of Associates and Bruce L. Scheiner Personal Injury Lawyers, P.A. "let's hope her efforts, and those of local emergency response agencies, can work to better ensure that these types of situations are eliminated going forward."
Associates and Bruce L. Scheiner Personal Injury Lawyers has been focused on justice for their clients for nearly four decades, and fight for the legal rights of those injured or killed due to the negligence of another. For detailed information on our results and areas of practice, please explore our website at www.focusedonjustice.com, or call us at 1-800-Dial-BLS to learn more about our areas of expertise and dedication to helping those in need.