When injuries stem from an altercation fueled by barroom bravado or alcohol, it is possible the owner of the bar, restaurant or nightclub could be held liable for damages.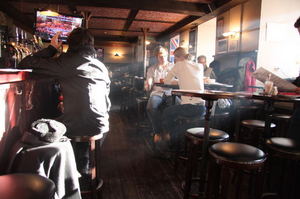 It depends on the underlying circumstances. Under Florida premises liability laws, establishments have a responsibility to keep their property reasonably safe from foreseeable danger. In places where alcohol is served, that means ensuring there is adequate security and protocol in place to respond when disturbances inevitably occur.
It was on this basis plaintiff in Bitgood v. Gordon Greene Post Number 27 of the Am. Legion was able to secure judgment against a bar where his injuries were inflicted by another patron. The case was recently weighed by the Rhode Island Supreme Court.

According to court records, the incident occurred in February 2009, when plaintiff and another man were patrons at a bar on defendant's property. There were two physical fights between the two men. The first happened inside the bar, and the second happened about 10 minutes later, in the parking lot just outside.
Plaintiff sustained serious injuries as a result, requiring him to stay in the hospital for two weeks, followed by another two months of recovery at home.
The following spring, plaintiff filed a personal injury action against defendant bar, alleging negligence by staffers resulted in his injuries. Defendant responded by alleging comparative negligence on the part of plaintiff.
At trial, more details emerged. Defendant staffers were aware the aggressor in the fight, the other patron, was a problem drinker known to cause problems. That night, bartenders described him as "vulgar, obnoxious, belligerent, antagonizing others and looking for a fight." He also was known to have a history of violence, as well as a black belt in karate.
Aggressor picked a fight with plaintiff and kicked him to the floor. After brawling for a few seconds, aggressor was pulled off and tossed outside. The door was locked. However, at no point following this first altercation did staffers contact police. One bartender reasoned she didn't call police because she believed it was over and aggressor had left.
However, the bar manager testified aggressor returned about 10 minutes later, threatening to kill plaintiff. At that point, the manager yelled for the bar tender to call police. Aggressor again attacked plaintiff in the parking lot. Plaintiff was left unconscious and bleeding while the aggressor drove away. Police and rescue workers arrived minutes later.
Plaintiff asserted his severe injuries from the second attack in the parking lot would never have occurred had bar staffers contacted police following the first fight.
Soon after that incident, the bar updated its policy to require bartenders to hit the panic alarm anytime a disturbance occurred or might occur. That alarm rings directly to the local police department.
A sergeant who oversaw the investigation stated the general standard of care was that it would be expected by police they would be called after each and every physical altercation to secure the scene. Defendant, he stated, had not meet this standard.
A jury agreed, awarding plaintiff $450,000 in damages. This was after assigning him 20 percent comparative fault for his own injuries.
Upon appeal, defendant argued trial judge was wrong to deny a motion for a new trial because the evidence was not evenly balanced and it had not breached its duty to protect plaintiff from reasonably foreseeable harm by failing to call police because the altercation was over and aggressor had left the site.
Rhode Island Supreme Court justices disagreed, finding the evidence evenly balanced and supportive of the assertion defendant had breached the applicable standard of care. The $450,000 judgment was affirmed.
Our Cape Coral injury lawyers know there are many theories of negligence upon which these kinds of claims can be staked. It's important to consult with an experienced attorney if you have suffered serious injuries as a result of an attack. While the criminal trial may seek punishment against the offender, you may have more options for pursuit of damages in a civil case.
Call Associates and Bruce L. Scheiner, Attorneys for the Injured, at 1-800-646-1210.
Additional Resources:
Bitgood v. Gordon Greene Post Number 27 of the Am. Legion, Jan. 16, 2015, Rhode Island Supreme Court
More Blog Entries:
Quinlan v. Toyota – Florida Judge Allows Pursuit of Punitive Damages, Jan. 22, 2015, Cape Coral Injury Lawyer Blog