DUI ignition interlock devices are effective at driving down recidivism rates among impaired driving offenders – but only so long as they are installed. Those rates begin to creep back up as soon as the devices are uninstalled.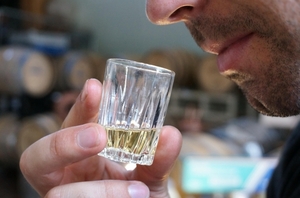 This is according to a new report by The Florida Legislature Office of Program Policy Analysis and Government Accountability, which recommends the state expand its ignition interlock program to encompass all first-time DUI offenders, as well as imposition for extended duration. The report also looks at how we might address problems with the program, such as the fact that only about half of those required to install the device actually do so.
According to researchers, there were 50,377 drivers arrested in Florida for drunk-driving in 2013. Most typically have their driver's license revoked for six months or more upon conviction.

State laws require drivers arrested with a blood-alcohol concentration of 0.15 percent or higher to install ignition interlock devices on the dash of their vehicles. The law was expanded last year to allow judge's the discretion to decide whether to impose that installation on first-time offenders with a blood-alcohol content of 0.08 percent or higher, but the measure did not make the penalty mandatory.
Ignition interlock devices are installed at the offender's expense, and will not allow the car to start if driver has a breath-alcohol content above a certain pre-set limit.
It's one of the ways the state helps to keep drivers who have driven drunk off the road. However, because it can't be imposed until after conviction, Florida law allows for the immediate imposition of administrative sanctions on all drivers who are either arrested for DUI or refuse to submit to a blood- or breath-alcohol test. Refusal to be tested will result in an automatic one-year license suspension. Arrest for DUI will result in an immediate six-month license suspension, with the license seized by the arresting officer.
Repeat offenders face an automatic one-year license suspension upon arrest. First-time offenders can obtain restricted driving privileges through the court after 30 days.
While all offenders are subject to license restrictions, only certain offenders are required to install interlock ignition devices. As of November 2014, there were more than 9,400 drivers in Florida who had interlock ignition devices installed. The cost is generally around $100 monthly, plus expenses for installation, de-installation and other fees.
However, the installation rate is low – 49 percent of those required to install the devices actually follow through. Part of this is related to the associated costs, while others don't finish the required DUI program education courses or haven't paid related fines.
While there is not much existing research on how much these devices save society, we do know the National Highway Traffic Safety Association estimates each alcohol-related crash costs around $4,000 per vehicle and more than $1 million per fatality. In this state, 859 people died and 11,350 were injured as a result of alcohol-related crashes in 2013.
Researchers note recidivism rates of first-time offenders with ignition interlock devices were lower than first-time offenders who only faced licenses suspension/revocation. This was based on a sample of 89,000 first-time DUI offenders charged between January 2006 and February 2014. Of those, 33,100 had the devices installed for at least six months. Those who had the devices installed had a recidivism rate of 0.34 percent within six months, while those who did not have the devices installed had a recidivism rate of 1.74 percent.
For this reason, researchers advocate expansion of the program. Our Fort Myers DUI injury lawyers believe if even one life is saved or spared devastating injury, the effort is worth it.
Call Associates and Bruce L. Scheiner, Attorneys for the Injured, at 1-800-646-1210.
Additional Resources:
Ignition Interlock Devices and DUI Recidivism Rates, December 2014, The Florida Legislature Office of Program Policy Analysis and Government Accountability
More Blog Entries:
ACUITY v. Johnson – Truck Crash Insurance Dispute, Jan. 23, 2015, Fort Myers DUI Injury Lawyer Blog