Florida's Fifth District Court of Appeal has ruled that attorney-client privileges between an at-fault driver and an insurance defense lawyer are still protected, even in third-party bad faith insurance claims.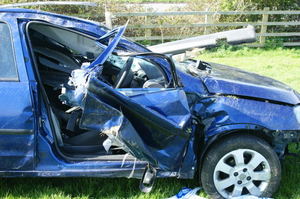 Car accident injury lawyers in Fort Myers note while this appears on the surface to depart from the 2005 Florida Supreme Court decision in Allstate Indemnity Co. v. Ruiz, the primary difference in Boozer v. Stalley is the distinction between attorney-client privilege and the "work product" produced in a personal injury case that later leads to a bad faith claim.
The 5th DCA had previously ruled that in bad faith lawsuits against insurance companies that fail to settle within the policy limits, all materials in the company's claim file up to the date of judgment in the underlying lawsuit are obtainable and should be produced when sought in discovery. Additional documents or memos in the file after the judgment date can be obtained when the plaintiff shows good cause.

Discovery of this claim file is allowed in third-party bad faith cases, even when the insurer objects on the grounds that product would violate work product or attorney-client privilege, because the injured third-party "stands in the shoes" of the insured party.
In this case, a man was injured in a motor vehicle accident with the defendant, who was at-fault. Defendant was covered under two insurance policies, both by the same insurer, which provided a total of $1.1 million in bodily injury coverage. A guardian for the injured man filed an auto negligence lawsuit against defendant, whose insurance company retained an attorney to defend her.
When settlement discussions sputtered, a trial followed in which the guardian secured a judgment against defendant in excess of $11 million. This ruling was not appealed. However, the insurer paid only the $1.1 million policy limit, and left the rest unpaid.
Efforts to collect on this judgment resulted in the bad faith insurance claim brought by the plaintiff. As part of this, plaintiff sought to depose the attorney hired by the insurance company to represent defendant in the underlying action. Both defendant and the attorney sought a protective order to limit testimony, citing attorney-client privilege. The attorney noted his client's interests were not aligned with plaintiff's, and she had not assigned any rights to him.
The trial court denied this order. Yet when the attorney was deposed, he refused to answer questions specific to his communication with his client.
The attorney then filed an appellate review of the protective order denial, arguing it a departure from the law regarding irreparable injury not remedied on appeal. Plaintiff countered Florida courts have long held third-party bad faith plaintiffs may stand in the shoes of the defendant to acquire any discovery materials that might otherwise be protected.
In finding attorney-client privilege in these cases should be protected, the court cited the 2009 decision in West Bend Mutual Insurance Co. v. Higgins, in which it ruled that while work product disclosures were permissible, there was nothing in previous case law to suggest that attorney-client privilege "somehow evaporates uniquely for insureds upon the filing of a bad-faith claim."
The court noted that in the wake of the Ruiz decision, other appellate districts had reached similar findings.
Also noted as the 2011 Florida Supreme Court ruling in Genovese v. Provident Life & Accident Insurance Co., which held that attorney-client privileged communication is not discoverable, even when work-product is. To rule otherwise, the court found, would create undue hardship because the purpose of attorney-client privilege is to encourage full and honest communication between an attorney and client. If an insurance company knows communication with a lawyer could be revealed upon request, this goal would be severely undermined.
This does not mean plaintiff has lost his claim. It does, however, mean he will have to prove it without the use of information gleaned from talks between the defendant and her lawyer.
Call Associates and Bruce L. Scheiner, Attorneys for the Injured, at 1-800-646-1210.
Additional Resources:
Boozer v. Stalley, Sept. 5, 2014, Florida's Fifth District Court of Appeal
More Blog Entries:
Study: More Florida Auto Injury Claimants Hiring Lawyers, Sept. 9, 2014, Fort Myers Car Accident Lawyer Blog