This month, an increase in holiday-related travel and freight delivers will increase the risk of a truck accident. The highways are full of harried drivers who don't have their attention on the road. Truckers are no different, especially given may of them work on tight deadlines and especially this time of year are under enormous pressure to bring toys, electronics, food items and other goods to retailers as promptly as possible so stocks are always replenished.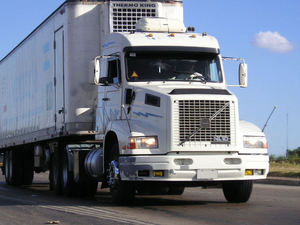 Far too many trucking retailers sacrifice safety for timeliness, even in light of recent federal regulations further restricting drive time and load weights.
In the recent case of Borden Dairy v. Kuhajda, a trial court jury determined a dairy truck driver's unsafe actions resulted in company liability for the crash. The verdict was recently upheld on appeal to Florida's First District Court of Appeal.

Our Fort Myers trucking accident attorneys recognize the top causes of truck crashes are:
–Driver fatigue –Trucker unfamiliarity with roadway –Driving under the influence; this includes over-the-counter medications and prescription drugs, as well as impairment by illicit drugs and/or alcohol –Speeding –Failure of trucker to properly check blind spots –Distracted driving, by both trucker and passenger vehicle driver
The potential for a trucking crash is present any time of year, but again, the winter holidays pose a heightened risk.
In the Kuhajda case, dairy truck driver testified at trial he was trying to drive his 30-foot delivery truck across five lanes of traffic, with traffic coming from his left. He indicated victim's vehicle was on his left. Suddenly, he stated a vehicle to his right pulled out from a parking lot, forcing him to stop his truck across multiple lanes and requiring him to stop with his bumper in the median. In the process, he struck victim's vehicle, causing her to suffer injuries.
However, that account did not match what he told attorneys in his sworn deposition several months earlier. Video of that deposition was entered into evidence previously without objection from defense. Plaintiff's attorneys were able to show defendant driver impeached himself on several occasions in his live testimony, which contradicted his deposition testimony.
Plaintiff counsel requested use of several portions of that videotaped deposition during her closing argument, which was the only time defense raised an objection to it. Trial court initially reserved a ruling on the matter, but ultimately allowed a clip of the video to be played and defense did not object.
A jury returned a verdict in favor of plaintiff, finding defendant 100 percent liable for the crash and awarding plaintiff damages. Defendant trucking firm requested a new trial, but the trial court denied the motion.
On appeal, the appellate panel upheld trial court's findings. The court pointed out once the videotaped deposition as admitted for evidence, it can be used by either party. Further, had the trial court declined to allow plaintiff attorney to use the deposition as she wished, it would have been a reversible matter of law.
Thus, trial court's findings were upheld.
Call Associates and Bruce L. Scheiner, Attorneys for the Injured, at 1-800-646-1210.
Additional Resources:
Borden Dairy v. Kuhajda, Dec. 5, 2014, Florida's First District Court of Appeal
More Blog Entries:
Antico v. Sindt Trucking, Inc. – Cell Phone Data Access After Truck Crash, Nov. 6, 2014, Fort Myers Trucking Accident Lawyer