A woman injured when her work van was struck by a school bus will get a second trial, following an appeal regarding improperly-admitted evidence.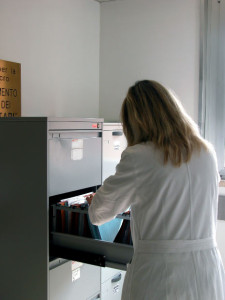 Plaintiff in Reese v. Stanton argued trial court improperly allowed reports and conclusions from workers' compensation doctors to be admitted into evidence in her personal injury lawsuit – even though those individuals were not called to testify in court. The Montana Supreme Court agreed, finding this action amounted to admission of hearsay.
The idea here is that the witnesses putting forth this information can't be challenged. It's the same reason police accident reports typically aren't entered as evidence unless the officer is also called to testify.
In this case, plaintiff pursued two avenues of compensation for her injuries: Workers' compensation and third-party litigation. She was entitled to funds under both, but the case is a good example of how these cases – which are filed totally separate from one another – sometimes intersect.
According to court records in the personal injury lawsuit, plaintiff was riding as a passenger in a work van when the vehicle was struck by a school bus. As a result, plaintiff suffered injuries, though those are not detailed in the appellate record.
Plaintiff first filed a claim for workers' compensation. Medical bills for the claim were approved, as a request for longer-term coverage was processed, and included a number of inquiries. Those included analysis and exams by a vocational rehabilitation expert, three medical doctors and a psychiatrist. The panel determined plaintiff could return to work without restrictions, and payments to plaintiff were discontinued.
Plaintiff then filed a personal injury lawsuit against the private operator of the school bus. (Many school districts now contract with private companies to provide busing services.) In her claim, she asserted accident-related injuries and sought coverage of medical bills, lost wages and lost earning capacity.
Trial court granted partial summary judgment to plaintiff on the issue of liability. That's because there was no real question the bus driver was at-fault for the accident. That meant the primary issues to be decided at trial were whether plaintiff's injuries were as serious as she said they were, and whether they were in fact caused by the accident.
Testifying on plaintiff's behalf was a vocational rehabilitation expert who indicated plaintiff had permanent loss of earning capacity due to the fact she needed to employed in a light duty or sedentary job.
Defense retained a medical causation expert, who determined plaintiff had no permanent injuries stemming from the accident. This doctor relied in part on the workers' compensation panel reports. In fact, the panel's reports were quoted and referenced throughout this doctor's report.
Plaintiff sought to exclude evidence from the workers' compensation panel in the trial. The doctors and other professionals who wrote that report weren't called as witnesses in her case, which deprived her of the opportunity to cross-examine them, which meant their testimony was hearsay.
Trial court disagreed and allowed it anyway.
Jurors returned a verdict awarding plaintiff $59,000. This might seem good, except her medical bills were nearly $90,000.
She sought a new trial, arguing the workers' compensation reports were prejudicial against her and legally should not have been allowed into evidence. Trial court denied her motion for a new trial, but on appeal, the state supreme court granted her request. The evidence, the court ruled, was inadmissible.
Call Associates and Bruce L. Scheiner, Attorneys for the Injured, at 1-800-646-1210.
Additional Resources:
Reese v. Stanton , Oct. 13, 2015, Montana Supreme Court
More Blog Entries:
Driverless Trucks Aim to Drive Down Construction Accidents in Highway Work Zones, Oct. 10, 2015, Cape Coral Bus Accident Attorney Blog