A school district in California agreed to pay $10.5 million to a former student who suffered a brain injury after he was violently mobbed by classmates while dressed in a mock mascot uniform of the rival team.The traumatic brain injury occurred after the student begged school administrators to let him take the chicken suit off after he'd suffered an initial beating while wearing it. School officials, however, coerced him to go back out with it.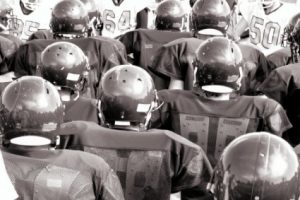 In Carter v. Kern High School District, the 24-year-old plaintiff, just 17 at the time of the 2010 attack, asserted he wore the chicken suit to the pep rally to make fun of the rival team. When he first did so, he was attacked by two students. He went to the school activities director, who forced him to continue wearing it by threatening him with having to pay the $75 rental fee if he refused to keep it on. He did as he was told.
However, during the rally, a number of students – including several of the school football players – dog piled up on top of him. He was hit, kicked and punched. It was supposed to be a "mock fight," so officials never stepped in to intervene. After suffering a traumatic brain injury, plaintiff had to spend six months in a brain injury treatment center. He lost out on his senior year of high school. His classmates surpassed him in heading off to college. He continues to suffer the effects of the brain injury. His medical costs are expected to reach more than $5 million in the course of his life. The attack reportedly also damaged his pituitary gland, and he will be required to take growth hormones for the rest of his life. He also reportedly will require special education classes and ongoing therapy.
In noting how this incident was foreseeable, plaintiff attorneys pointed to an incident that occurred just a few years earlier. A teacher donned that same chicken suit and he too was attacked, suffering broken bones, broken ribs, a torn bicep and long-term shoulder injuries.
After a lengthy trial, jurors assigned defendant school district 100 percent liability for the student's injuries at school. That prompted the school district to negotiate a settlement before the damages phase of the trial got underway. Plaintiff initially asked for $45 million in his opening statement. The school district had offered a $50,000 settlement agreement before trial, which it later increased to $1 million and later to $1.5 million as the proceedings wore on. But plaintiff attorney held out and it seems it paid off, with the $10.5 million settlement deal. The school district attorneys seem to have understood that a jury that found the district 100 percent liable for this young man's injuries at school wasn't likely to cut the defense a break on long-term damages.
Although the school district had stated during opening arguments that the teen was not formally diagnosed with a brain injury until three years after the incident, a district spokeswoman conceded the beating "never should have happened." The school district has promised to reevaluate its standards and "humbly accept that responsibility" after the finding of 100 percent liability.
Call Associates and Bruce L. Scheiner, Attorneys for the Injured, at 1-800-646-1210.
Additional Resources:
Lawyer Wins $10 Million Dressed in a Chicken Suit, July 5, 2016, By Rebekah Kearn, Courthouse News Service
More Blog Entries:
Court Clarifies Liability for Duty to Report Nursing Home Abuse, May 31, 2016, Fort Myers Injury Lawyer Blog