After a recent car accident in Fort Myers in which a toddler died, the driver of the rear-end accident faced a warrant for her arrest after allegedly failing to properly buckle in her child, according to The News-Press. It all happened on Market Street and Fowler Street in Fort Myers when the the 31-year-old driver was rear ended by another vehicle. It was just the collision that concerned officials, but the fact that there was an unharnessed 2-year-old girl in the vehicle.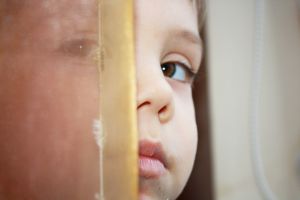 The young passenger was transported to the Lee Memorial Hospital where she later died from injuries sustained in the accident. No one else was injured in the accident. According to local police, the child was sitting in the passenger seat and was not properly buckled into a car seat when the collision occurred. The car seat was not anchored to the car either. In the accident, the airbag deployed.
Our Fort Myers child injury attorneys understand that children rely on parents to make sure they're properly buckled during every car ride. It is the parents' responsibility to make sure these kids are riding safely and are properly buckled in during every car ride. Since the mother failed to buckle in her little girl, she's now at the Lee County Jail arrested on charges of aggravated manslaughter of a child. Court records indicate that she is still in custody on her $15,000 bond. She is scheduled to appear in court on the 7th of May.
This is a tragic reminder of the requirement for child-passenger safety.
In the state of Florida, law states that children under the age of 5 are to be properly restrained no matter which seat they're occupying in the vehicle. Kids who are under the age of 3 are to be secured in a separate carrier (child car seat) or in a vehicle manufacturer's integrated child safety seat. Kids between 4- and 5-years-old can ride in either a safety belt, an integrated child safety seat or a separate carrier. If an adult seat belt does not fit your child correctly, you should use a booster seat to help make it fit once they've outgrown their forward-facing car seat, which is usually at either 4-years-old or about 40 pounds. Children who weight between 40 and 80 pounds or are under the height of 4'9″ should ride in a booster seat.
If you violate one of these Florida child restraint laws, you could get a fine of $60 and 3 points on your driver's license. If an injury or a fatality results, you could wind up in a lot more trouble.
There were nearly 1,500 kids aged 14-years-old and younger who were killed in a motor vehicle accident in 2009. Nearly 200,000 more were injured throughout the year. Parents can help to reduce these numbers; in 2008, officials estimate that nearly 250 kids under the age of 5 were saved because of properly used child restrain systems, according to the Centers for Disease Control and Prevention (CDC).

Associates and Bruce L. Scheiner, Attorneys for the Injured, is a law firm that is dedicated to representing accident victims in personal injury and wrongful death claims throughout South Florida, including victims of accidents in Cape Coral, Naples, Fort Myers, Naples, Port Charlotte and Sebring. Call today to schedule a free and confidential consultation to discuss your case. Call 1-800-283-2900.
More Blog Entries:
New Child Seat Website Hoping to Reduce Risks of Child Injury in Fort Myers, Nation, Florida Injury Lawyer Blog, January 22, 2012
Proper Car Seats Vital to Protecting Children in Fort Myers Car Accidents, Florida Injury Lawyer Blog, March 26, 2011