During her early morning walk, Frances Peltier made her last round when she ran into a 3-year-old pit bull who had escaped a home on Euclid Avenue. This short encounter would be one to remember as the dog sprinted towards Peltier, latching on and ferociously attacking, according to the victim. The Fort Myers dog bite injuries to her thigh and her abdomen required hospitalization. A passerby witnessed the attack and reached out to 9-1-1 for help.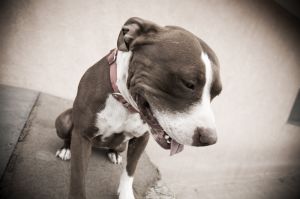 "I could see this dog running like a bullet," said Peltier.
Our Fort Myers injury attorneys understand that the phone call to local authorities may not have been enough as the pit bull attacked both Peltier and the witness before authorities arrived. Although the viscous attack targeted the two victims, the owner of the dog claims that the victims are overreacting and that the pit bull, Sasha, is innocent and isn't the attacking type.
According to Dr. Sophia Yin, a California-based veterinarian and animal behaviorist as well as a board member of the American Veterinary Society of Animal Behavior, you have to treat dogs that bite like they're going to bite again. Dr. Sophia Yin was brought into the case after a phone call from a witness. The call was to help bring attention to the fact that there are not county laws in place that allow officials to seize and destroy dogs deemed dangerous, according to The News-Press.
According to a spokeswoman for the Lee County Domestic Animal Services, Ria Brown, the dog owner has been cited for letting the dog run unsupervised and for its threatening and menacing behavior. This citation counts as strike number one. Upon strike number two, a dangerous dog investigation will be conducted. If the investigation concludes that Sasha is "dangerous" then the owner faces a $1,500 fee and another $500 yearly registration. In these cases, dogs are required to be muzzled in public and fenced in at home. If a dangerous dog bites another victim, the owner could face time behind bars.
Still, there are no laws that permit Animal Services to take the dog into custody after an attack. Even with the way the ordinance is written, Sasha wouldn't be considered a dangerous dog. An attack has to be life-threatening to land a pup with a "dangerous" title.

Florida Law Defines a Dangerous Dog As:
-A dog that has aggressively attacked, bitten, endangered or has inflicted a "severe injury" on a person. A severe injury is defined as one that has caused disfiguring lacerations that require reconstructive surgery or sutures, has broken bones or has engaged in multiple bites.
-A dog that has, on more than one occasion, severely injured or killed another domestic animal on the owner's property.
-A dog that has been trained in dog fighting practices.
-A dog that has, without provocation, approached or chased someone on the street in a menacing fashion or with an apparent attitude of attack.

If you or someone in your family has been bitten or has been injured by a dog in Fort Myers or in any of the surrounding areas, contact Associates and Bruce L. Scheiner, Attorneys for the Injured, today to learn more about how we will fight for your legal rights. Call 1-800-Dial-BLS.
Additional Resources:

Tell Mel: Unlike dog, law is all bark and no bite, by Melanie Payne, The News-Press
More Blog Entries:
Dog Bite Accidents in Fort Myers Threatening Residents, Florida Injury Lawyer Blog, April 3, 2012