Our Fort Myers child injury lawyers encourage parents to participate in Child Passenger Safety Week (Sept. 19 to 25) by talking to your kids about dangers around vehicles and having your booster and safety seats checked on National Seat Check Saturday, Sept. 25.
A list of child safety seat check locations in Fort Myers, Cape Coral and throughout South Florida is available here.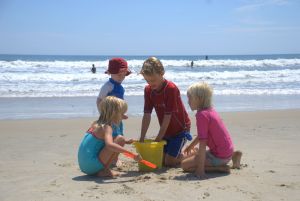 The Centers for Disease Control and Prevention reports that car accidents remain the leading cause of death for young children ages 3 to 14. The National Highway Traffic Safety Administration reports 1,347 children were killed in car accidents in 2008 and 193,000 were injured. Florida car accidents killed 73 children that year.
In selecting a child safety or booster seat, it is also important to consider the fit of the seat and your vehicle. Child products have the highest incidents of reported defects; poorly designed seats may result in a defective products claim in Southwest Florida. The Insurance Institute for Highway Safety recently rated 72 booster seats, giving 21 of them a "Best Bet" rating and not recommending the purchase of eight others. A complete list of child booster seat ratings is available here.
"For the first time top-rated boosters outnumber ones the Institute doesn't recommend," says Anne McCartt, Institute senior vice president for research. "Now more than ever manufacturers are paying attention to belt fit, and it's showing up in our ratings."
The National Highway Traffic Safety Administration is also highlighting other dangers during Child Passenger Safety Week, including the risk of children being left in hot cars, backover injuries, power window injuries, vehicle rollaways and trunk entrapment injuries.
Florida and Texas lead the nation in the number of children killed by heatstroke as a result of being left in a hot car, according to San Francisco State University. So far this year, 45 children have died nationwide, far exceeding the 33 kids who died during all of last year. Fifty children have died in Florida during the last decade as a result of being left in a hot car.
Children and Hot Cars
-Never leave a child alone in a car.
-Teach children that a vehicle is not a play area.
-Do things to remind yourself there is a child in the vehicle.
-Always lock the doors and trunks on unattended vehicles.
You can find additional information on the dangers of children in hot cars here.