Cool October weather brings welcome relief from the heat and humidity of a long summer. The National Weather Service indicates that by mid-October average daily temperatures in Southwest Florida will be nearly 10 degrees cooler, even as the insufferable humidity of September disappears.
Fall also begins the long cycling season in SWFL, as even the most dedicated riding masochist sees less road time amid summer's scorching temperatures and frequent storms. Many riding events are planned for autumn. The increasing number of riders on the road will also coincide with early darkness and the return of snowbird and tourism traffic.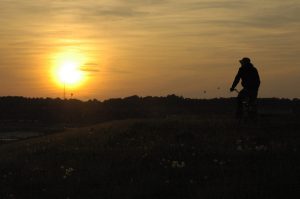 An investigate report by The News-Press recently examined five years worth of bicycle crash data in revealing that Lee and Collier counties were among the most dangerous counties in the state for serious and fatal bicycling accidents. And the risks are on the rise in both counties, with Collier crashes up almost 40 percent in three years. Crashes in Lee County spiked more than 70 percent.
According to News-Press statistics, more than 100 serious or fatal riding accidents occur each month from September to May. Riding risks peak from January-March, with about 140 accidents a month reported to local law enforcement. Statewide, the Florida Department of Highway Safety and Motor Vehicles reported more than 6,500 bicycle crashes claimed 133 lives in 2016, making Florida the most dangerous state in the nation for bicycling accidents.
Bicycle Accidents in SWFL: Prevention and Causation
There are misconceptions about both victim and at-fault driver.
It's typically not a 92-year-old behind the wheel of a Buick when a bicyclist is struck. It's more likely to be someone in their 20s or 40s. The 20- to 24-year-old drivers occupied the top spot for bike-involved crashes. Then came 45- to 49-year-olds. Drivers of pickup trucks also seem to be at increased risk of causing a collision, according to statistics.
Nor are the victims most typically children. The popularity of cycling for recreation and fitness make adults, visitors and tourists the most likely victims. Males are far more likely to ride on the road, and thus account for most accident victims.
Historically low penalties for motorists who injure or kill riders has also increased the risks. Many are charged with a moving violation, which carries a maximum $1,000 fine.
Bicycle Injury Lawsuits and Wrongful Death Claims
These can be complex claims for a number of reasons. Traditionally, the lack of significant investigation and severe criminal penalties has left victims with less evidence to prove their claim in civil court. Remember, it's the plaintiff (injury victim) who has the burden of proof. Consulting an experienced bicycle injury lawyer in the immediate aftermath can help protect your rights.
Additionally, charting a path to making an acceptable financial recovery is also frequently a hurdle in these cases. A high percentage of bicycle accidents result in serious injury, which may necessitate long-term care and/or result in some disability. These cases make identifying all available insurance coverage a critical factor in bringing a successful lawsuit. Unfortunately, many at-fault drivers lack adequate coverage. Florida's minimum mandatory insurance requires just $10,000 in coverage, among the lowest in the nation. And a substantial number of motorists who are at-fault for a bicycle or pedestrian accident flee the scene.
In such cases, a victim's uninsured/underinsured motorist coverage will be a vital lifeline. While our injury lawyers in Naples and Fort Myers encourage all motorists to purchase this optional coverage, recreational cyclists in Southwest Florida should never be without it.
If you or a loved one is injured, call Associates and Bruce L. Scheiner, Attorneys for the Injured, at 1-800-646-1210.