Florida dram shop liability laws exist so that those harmed by drunk drivers may collect damages from entities that knowingly served alcohol to minors or people known to be habitually dependent on alcohol. Dram shops are any establishment that serves alcoholic beverages to the public.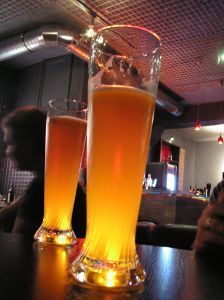 In addition to allowing an avenue of recovery for victims of drunk drivers, F.S. 768.125 is intended to deter bars and restaurants from simply selling as much alcohol as possible to whomever without regard for the consequence to the public.
The law holds businesses accountable under one of two conditions:
–Drunk driver was not yet of legal age to consume alcohol (21) and the bar employees knew or should have known this fact;
–Drunk driver was habitually addicted to alcohol and bar staff knew or should have known this fact.

Although drunk drivers themselves typically cannot recover damages on the basis of dram shop liability, surviving family members may be able to if the driver is killed.
This is the circumstance in Evans v. McCabe, where Florida's Fifth District Court of Appeal reversed a trial court's order of summary judgment and granted plaintiff permission to proceed with the case to trial.
According to court records, defendant (which also goes by the name "Jake & Mickey's"), reportedly served alcohol to decedent on the night he died. Decedent was drunk at the time of the accident, in which he crashed his vehicle into a tree.
No one else was injured in the crash.
Decedent's mother sued the bar, alleging the employees, staff and agents who served alcohol to her son knew or should have known decedent was habitually addicted to alcohol, and yet served him anyway. She also accused defendant of evidence spoliation for destroying surveillance video that reportedly showed decedent drinking at the bar prior to the crash. Were the court to find in favor of plaintiff on this fact, it could have serious consequences to the defense.
Plaintiff presented evidence of decedent's alcohol addiction and defendant's knowledge of it, primarily through testimony from decedent's girlfriend and other family members that he regularly went to defendant's establishment and excessively consumed alcohol.
Defendant bar denied liability, arguing plaintiff could not establish either that decedent was a habitual alcoholic or that defendant had knowledge of decedent's alleged dependence on alcohol – both conditions that had to be met in this case.
Trial court granted summary judgment.
Appellate court reversed. Although it is probable the issue of comparative negligence will come into play here (that is, the question of what degree of fault decedent had for causing his own death), the court ruled there remained genuine issues of fact in dispute that precluded summary judgment.
That means the case will be allowed to proceed to trial, where a finding of evidence spoliation could help to significantly further plaintiff's claim. Sanctions for spoliation can result in a range of penalties, including stipulation of certain facts or even summary judgment for the party adversely affected by the spoliation.
Call Associates and Bruce L. Scheiner, Attorneys for the Injured, at 1-800-646-1210.
Additional Resources:
Evans v. McCabe, April 10, 2015, Florida's Fifth District Court of Appeal
More Blog Entries:
Report: Lee County Roads Increasingly Dangerous, March 23, 2015, Fort Myers Auto Accident Lawyer Blog