A temporary laborer hired to help on a high school stadium construction project sustained serious injuries his first day on the job when a trench collapsed.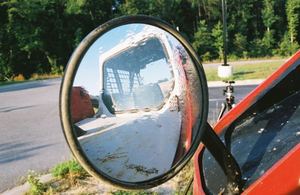 He ultimately secured a $1.15 million judgment against the paving company in a third-party lawsuit, and the Oklahoma Supreme Court recently ruled those funds can be garnished from the firm's insurance policy.
Workers who excavate or dig in trenches are at risk of death if they enter a trench that isn't protected and the walls collapse. It may seem a few feet of dirt isn't that dangerous, but consider that a single cubic yard of dirt can weigh more than 3,000 pounds. That's enough to easily suffocate or fatally crash a worker. Between 2000 and 2009, more than 350 workers in the U.S. were killed in trenching and excavation cave-ins. Hundreds more were seriously injured.

Plaintiff in Broom v. Wilson Paving & Excavating was one of those seriously injured.
According to court records, the construction accident happened in the spring of 2007, after plaintiff went to a temporary labor firm to seek work. That same day, he was directed to work with a paving and excavating firm, laying trench. That afternoon, four hours into the shift, the trench in which plaintiff was working collapsed twice. The first time, dirt covered him to his waist. It collapsed again soon after, covering him up to his neck.
Other workers on scene worked furiously to free the worker from the dirt from his neck down to his waist while emergency workers were on their way. But even when emergency medical services got there, they could do nothing to rescue plaintiff until the trench was safely reinforced. Throughout this time, plaintiff was still buried from the waist down.
Eventually he was removed, but his injuries were severe. They included collapsed lungs, pulmonary contusions, fluid around his kidney and spleen, a laceration in his left kidney, blood in his chest and rib fractures.
The excavating firm asserted that another contractor moved a flag pole and monument in the area where the trench was dug without telling anyone. However, one of its own employees at the time of the accident was using a back hoe to dig and to extract pipe from a space near where the collapse occurred.
The Occupational Safety & Health Administration later cited the firm for:
–Failure to instruct workers on spotting and avoiding unsafe conditions;
–Failure to provide protective helmets;
–Failure to provide safe means out of the trench;
–Failure to place excavated materials at least two feet from the edge of the excavation site;
–Failure to provide an adequate protection system to protect workers.
Plaintiff sought and received workers' compensation benefits from the temporary labor firm. The excavation firm paid no workers' compensation money. However, plaintiff sued the excavation company in a third-party lawsuit.
Before trial, a judge ruled the company's insurer had a duty to indemnify the firm, though no judgment was made regarding coverage. Ultimately, a judge at a bench trial found in favor of plaintiff in the amount of $1.15 million. He found not only did defendant's actions constitute negligence and negligence per se, defendant knew serious injury to workers was substantially certain to occur.
Plaintiff then sought to collect from defendant's insurance company. However, insurer insisted the injuries were excluded as part of the exclusions pertaining to "expected or intended injury" in earth movement activities. While the trial judge ruled in favor of the insure and an appellate court affirmed (though on different grounds), the Oklahoma Supreme Court reversed. Although the insurer insisted "earth movement" applied to excavation, plaintiff and the company argued it only pertained to natural events, like earthquakes.
The state high court found prior case law there and in other jurisdictions supported the position of plaintiff, who prevailed.
Call Associates and Bruce L. Scheiner, Attorneys for the Injured, at 1-800-646-1210.
Additional Resources:
Broom v. Wilson Paving & Excavating, April 7, 2015, Oklahoma Supreme Court
More Blog Entries:
Federal Court Relieves General Contractor's Insurer of Liability for Florida Subcontractor's Death, May 6, 2014, Fort Myers Construction Accident Attorney Blog