Two construction workers were killed last week in a Florida scaffolding accident after their scaffold collapsed at a JW Marriott Hotel in Orange County.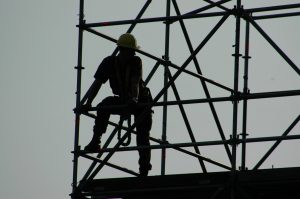 Four workers were on the scaffolding when it collapsed at the site on Chelonia Parkway near Disney in Bonnet Creek. Two workers fell while another held on and the other worker was able to climb to safety, according to a report in the Atlanta Journal Constitution. Officials say workers were pouring concrete when the accident happened at the resort hotel, which is under construction.
The Occupational Safety and Health Administration (OSHA) will investigate the incident.
Construction Injuries in Southwest Florida
Our construction accident lawyers in Fort Myers and Naples note this incident is just the latest in a series of recent fatal construction accidents in Southwest Florida. In fact, two construction workers were killed earlier this year in a scaffolding accident in Naples. 
The booming economy in SWFL has increased the risks of all types of accidents, but nowhere is that more evident than in the construction industry. Nationwide, 1 in 5 fatal work injuries occurs in the construction industry, according to the Occupational Safety and Health Administration. Known as the Fatal Four, the most common construction accidents are falls, being struck by an object, being caught in or between equipment/objects, and electrocution. Eliminating these four risks would save more than 630 lives per year, according to government statistics.
Last year, the most commonly cited violations included:
Florida Construction Accident Injury Claims
Workers' compensation will likely be the first line of defense for those who are injured on the job in Southwest Florida, and that includes those working in the construction industry. The Florida Workers' Compensation Act provides no-fault benefits, including medical expenses, rehabilitative care and lost wages, for employees who are injured on the job. However, among construction workers the challenge is often their classification as independent contractors.
Independent contractors may not be entitled to the same benefits as employees. But independent contractors may be entitled to workers' compensation benefits from their own employer, provided they are classified as employees. In many cases, an employee may also be incorrectly categorized as an independent contractor, so that an employer can avoid some of the costs associated with classifying workers as employees, including the cost of workers' compensation benefits. This is particularly common in the construction industry.
Regardless of whether a worker is entitled to workers' compensation benefits, a third-party liability lawsuit may also be an option for collecting damages when someone other than an employer is responsible for a work injury, or in cases where an employer does not have workers' compensation insurance. Unlike workers' compensation benefits, which do not require a finding of fault on the part of an employer and are even available in most cases where an employee caused or contributed to his own injury, a third-party liability claim will require a showing of fault on the part of one or more parties (other than a workers' employer). This can include a property owner, general contractor, equipment manufacturer or other independent contractors working on the site at the time of the accident.
If you or a loved one is injured, call Associates and Bruce L. Scheiner, Attorneys for the Injured, at 1-800-646-1210.