A seven-car pileup in Fort Myers on Summerlin road killed one and injured several others after a semi-trailer truck rear-ended a passenger car, setting off a fiery chain-reaction crash.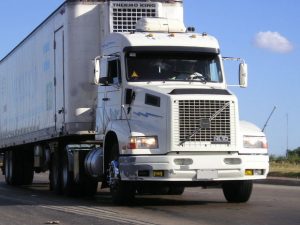 Officials with the Florida Highway Patrol were investigating the details, but  The News-Press  reported all vehicles involved were traveling northbound on Summerlin Road near Winkler Road in South Fort Myers. All were in the process of slowing down for impending traffic congestion, as it was shortly before 4 p.m. They included a tractor-trailer ruck, two vans and four cars.
The tractor-trailer truck driver reportedly failed to stop in time for the traffic ahead of him. He slammed into a Town Car. That vehicle was driven by a 70-year-old man. A 38-year-old woman was riding in the rear passenger seat of that vehicle. The Town Car burst into flames. The 38-year-old woman, from Iowa, died instantly. 
That impact sparked a chain-reaction truck accident. The 70-year-old Town Car driver was seriously injured, as was a 27-year-old man from Fort Myers, a 25-year-old man from Lehigh Acres, an unidentified passenger in his vehicle and an 84-year-old man from Cape Coral.
Two of the victims had to be transported to Tampa General Hospital for serious burns. Four other people suffered minor injuries. The 38-year-old woman was pronounced dead at the scene.
Authorities with the FHP, who closed down that section of Summerlin Road for more than five hours, said it appears an improper lane change may have played a role in causing the fatal truck accident. They have not yet indicated which driver was to blame.
In any rear-end accident, there is a rebuttable presumption of negligence on the driver in the rear. That means that the rear driver is presumed to be at-fault unless they can show:
Affirmative evidence of a mechanical failure of the rear vehicle;
Testimony of a sudden and unexpected stop or lane change initiated by the vehicle ahead;
Evidence that the vehicle ahead was illegally stopped on the road.
These criteria were established in the 2007 Florida 3rd District Court of Appeals decision in FDOT v. Saleme.
In a case like this, the truck driver would be presumed at-fault. This would be especially true if the truck driver made an improper lane change and did not have enough time to stop for slowing traffic.
However, that presumption could be effectively rebutted if there was evidence that the Town Car driver – or some other driver – made a sudden improper lane change that resulted in the vehicles behind not having adequate time to stop.
Another challenge in a wrongful death or injury lawsuit like this one is establishing whether there was one accident or several. That could impact which drivers are at-fault. It will depend at least partially on whether there were intervening factors.
There could also be evidence that several different parties were at fault. For example, one driver may have made an improper lane change, but another may have been distracted. In Florida, each party must pay damages according to their percentage of fault.
Call Associates and Bruce L. Scheiner, Attorneys for the Injured, at 1-800-646-1210.
Additional Resources:
Summerlin wreck kills Iowa woman; two others critical, May 17, 2016, By Michael Braun, The News-Press
More Blog Entries:
Study: Distracted Driving a Big and Growing Problem in South Florida, April 27, 2016, Fort Myers Truck Accident Lawyer Blog