A construction contractor in Florida has been slapped with $200,000 in fines by the U.S. Occupational Safety & Health Administration for repeated, serious and willful violations related to unsafe fall protection and ladder safety practices. Although it's likely this fine will be reduced upon settlement (which is how most of these cases end), the fact is, falls remain one of the most serious – and common – preventable risks on Florida construction sites.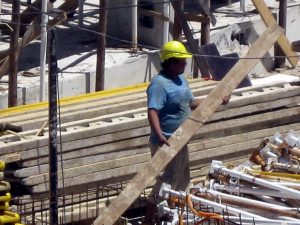 That's why it's not really surprising that, according to ConstructionDive.com, numerous Florida construction firms have been fined for these violations in recent weeks. Those include:
A roofing company in Jacksonville cited for fall protection violations for the fourth time just in the last 12 months. The St. Augustine contractor has been fined $128,000.
A large home-building company with operations in South Florida was cited for violations in North Florida that involved failure to ensure a carpentry contractor was using the right fall protection measures while they were working at a height that exceeded 25 feet. The subcontracting workers were also using the very top step of a ladder to reach the roof trusses – which is extremely dangerous and counter to what we know about safe ladder practices.
A Miami contractor was fined $53,000 for failing to train workers and exposing them to openings that dropped more than 18 feet.
A contractor in Jacksonville was fined $145,000 for failure to properly extend a ladder and allowing workers to install roof sheathing without using proper fall protection.
Fort Myers construction accident lawyers know that while many companies loathe when OSHA gets involved, the threat of federal intervention and serious fines helps keep many companies vigilant in using proper safety practices. This is especially important with fall prevention, particularly in the construction industry.
The construction industry has some of the most dangerous occupations, and falls are known as the top "fatal four" workplace hazard in the construction industry. OSHA reports falls accounted for 359 out of 899 deaths in the construction industry in 2014. That's almost 40 percent. Meanwhile, the other major causes of injury – electrocutions, struck-by object and caught-in/between – accounted collectively for 20.6 percent of all construction industry accident deaths.
It's generally accepted that falls are by-and-large preventable. OSHA recommends – Planning ahead for the job, providing the correct/ adequate equipment and training workers to use equipment properly.
When workers are injured as a result of a construction accident fall, they may have several options for compensation, depending on the circumstances. The first we'd want to explore is workers' compensation. These are benefits paid out by the employer/ employer's insurer for injuries suffered on-the-job. Although these benefits won't cover 100 percent of lost wages, they will cover a portion, plus all related medical bills. Some companies will fight workers on these benefits, arguing the injury wasn't work-related. An attorney can help.
The other avenue to explore is third-party litigation. Workers' compensation law in Florida contains an exclusive remedy provision which does not allow injured workers to sue their employers for negligence except in the most extreme circumstances. However, workers can take action against third parties who may have been responsible, such as:
Other contractors;
General contractors;
Motor vehicle drivers;
Property owners.
This isn't an exhaustive list, and it's always best to have a discussion with an experienced injury attorney if you or a loved one is serious injured on the job.
Call Associates and Bruce L. Scheiner, Attorneys for the Injured, at 1-800-646-1210.
Additional Resources:
FL contractor slapped with $200K OSHA fine for fall protection violations, Sept. 15, 2016, By Kim Slowey, ConstructionDive.com
More Blog Entries:
Yeatts v. Polygon Northwest Co. – Construction Injury Lawsuit, Aug. 3, 2016, Fort Myers Construction Accident Lawyer Blog