Everyone knows a texting driver is a dangerous driver. But the consequences for doing so – particularly in Florida – are weak in comparison to the penalty paid by victims. That's why it keeps happening, and why the number of crashes nationally attributed to texting drivers is now at 340,000, according to the National Safety Council.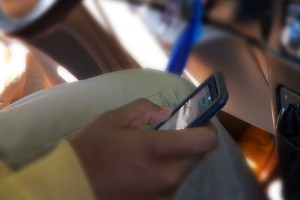 In an effort to combat this problem, a group of Florida lawmakers have reintroduced a measure that would empower local law enforcement to make enforcement a greater priority throughout the state. As it now stands, F.S. 316.305, known more broadly as the "Florida Ban on Texting While Driving Law," stipulates that the violation is a secondary offense. What that means is a law enforcement officer isn't allowed to stop a driver solely for breaking the texting law. There has to be some other valid reason for the stop, and only then can an officer issue a citation for texting-while-driving.
House Bill 537, introduced by W. Keith Perry (R), would revise this statute to make the violation a primary offense, meaning officers can stop drivers and issue citations for texting. If it passes the legislature, the measure would become effective Oct. 1, 2016 – exactly three years after the initial ban went into effect.
This kind of action is especially important considering a new annual survey conducted by State Farm Insurance Co., which revealed that while self-reported texting and driving habits have remained nearly the same (31 percent of drivers in 2009 vs. 36 percent of drivers in 2015), the amount of drivers accessing the internet nearly doubled (13 percent in 2009 vs. 29 percent in 2015). Other significant increases include reading and responding to e-mail, reading, updating social media accounts and using GPS.
When asked what would keep them from texting or engaging in other cell phone activity when driving, respondents answered:
48 percent – I cause a crash while responding to or reading a text;
42 percent – Financial and/or legal consequences
36 percent – Getting caught by police
Of course, all of those things are potential possibilities, but the serious penalties tend to occur when there is an accident. As we've seen with so many other types of risky driving behaviors, people don't think the worst will happen to them. They take chances. By toughening the existing laws to allow police greater authority to initiate traffic stops for texting while driving, our Fort Myers accident attorneys believe people will be less inclined to take that risk in the first place.
The Fort Myers Police Department recently announced it was launching a new impaired driving awareness campaign – one that included distracted driving. Nationally, December is recognized as "3D" month – which stands for "drinking, drugs and driving." The FMPD is expanding on that to make it "4D" for "drinking, drugs, distraction and drowsy driving." The incorporation of distracted driving into the campaign is indicative of how big a problem it has become.
Still, only 95 drivers in Lee County were cited last year for texting while driving. That's not because officers aren't seeing it, and it's not because it's less of an issue here. Rather, police are bound to adhere to the law, which says there has to be some other reason to stop someone. That usually means the offending driver has already been in an accident or nearly caused one.
Allowing officers to be proactive will save lives.
Call Associates and Bruce L. Scheiner, Attorneys for the Injured, at 1-800-646-1210.
Additional Resources:
Lawmakers work to strengthen texting and driving law, Dec. 2, 2015, By Graham Hunter, NBC-2
More Blog Entries:
Stensland v. Harding County – Government Liability for Poor Road Conditions, Dec. 13, 2015, Fort Myers Accident Attorney Blog