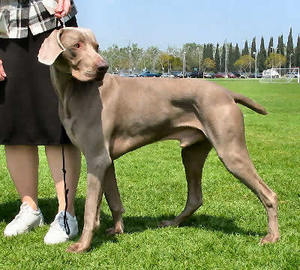 In just a 9-day time span, two Florida toddlers have lost their lives because the family pet suddenly attacked them in separate vicious, unexplainable attacks.
A pet 8-year-old male Weimeraner bit Liam Perk, a two-year-old from Cape Coral, on the neck on December 22nd. Tragically, the boy died after being rushed to the hospital for treatment. The dog, which by all reports was a well-behaved, indoor pet, bit Liam as he walked past the animal. On December 13, 2009, a 20-month old boy, Dallas Walters, was killed in New Port Richey, Florida, after being mauled by his aunt's pet Rottweiler inside her residence. In Liam's case, although the story reported by the AP Wire services and picked up around the country stated the dog apparently attacked without provocation, there are those that feel that is unlikely.
Lee County Chief of Animal Services, Adam Leath, seems to be of the belief that there must have been something Liam did to cause the dog to turn on him. "Animals will react in a fight or flight response depending on the circumstances," Leath told the Fort Myers News-Press. There are still other experts in the field of animal behavior who feel that even the most mild mannered, well trained dogs will lash out if they feel they are being mistreated, attacked or provoked to fight for their lives. Patrick Logue, an advanced dog behavioral therapist and trainer, adds this advice." Dogs use body language and vocal tones to communicate," he said. "You want to make sure kids don't play too rough with a dog, even if they're having a good time. A dog might nip at a child even if it's playing because that's how a dog communicates." We have all heard stories about young children who will playfully pull a dog's ears or tail, and the dog may go years, or even its entire lifetime, seemingly unfazed by that type of treatment. But the fact of the matter is it may not take much to cause the dog to snap back, or worse.
The two Florida deaths brought the total of fatal dog attacks in the United States to 30 during 2009. Although many people believe that dog attacks involve stray dogs, the fact is that 75% of such occurrences involve the family pet, and happen in the family home. More than half of the victims of serious dog bites are kids. Parents have a responsibility to teach their kids the dangers involved with pet ownership, and many feel the subject needs to be addressed in elementary schools.
The American Humane Society says that children must learn the following basics about dog safety:
• Never approach an unknown dog or a dog that is alone without its owner, and always ask the owner's permission before petting it.
• Never approach an injured animal – go find an adult who can get it the help it needs.
• Never approach a dog that is eating, sleeping, nursing or has something it likes – like a bone or toy.
• Don't poke, hit, pull, pinch or tease a dog – the dog may not realize you're just playing.
• Don't chase or run from a dog.
A complete list and explanations outlining dog bite laws can be found here: Florida dog bite law statutes.
Bruce L. Scheiner, a Florida personal injury attorney and Senior Lawyer at Associates and Bruce L. Scheiner Personal Injury Lawyers, P.A., has witnessed firsthand the catastrophic and devastating results of a dog attack. "My heart goes out to little Liam Perk's family, especially with the event happening just three days before Christmas," says Scheiner. "No matter how docile and cute a family pet may be, people need to understand that occasionally the slightest irregularity can cause them to seriously injure or even kill a person, seemingly for no reason."
Victims of dog attacks have rights under the law, and the entire family of expert attorneys and support staff at Associates and Bruce L. Scheiner Personal Injury Lawyers believes that justice is worth fighting for. If you or someone you know has been injured by a dog bite, we invite you to call us at 1-800-Dial-BLS, or visit our website at www.focusedonjustice.com.