A tourist died recently after a parasailing accident in Longboat Key. The 31-year-old- from South Carolina was harnessed by an 800 foot rope to the parasailing boat, Almost Heaven, when the boat lost power, according to Florida Wires.
The Coast Guard reports that the tourist fell into the water, from as much as 800 feet in the air, at an unknown speed. The Florida parasailing accident happened about a mile off the shore of Longboat Key. The South Carolina man was pronounced dead at an Anna Maria Island boat ramp.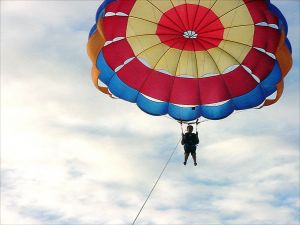 Our Fort Myers tourist accident attorneys understand that these types of attractions are very dangerous. Despite the number of fatal parasailing accidents over the past few years, parasailing remains unfettered by any safety rules or regulations enforced by state, federal or even local agencies. No one is even able to access accurate statistics regarding parasailing accidents because there is no one agency keeps track of these events.
Witnesses to this Longboat Key parasailing accident say that the man waived to indicate he was okay when he initially landed in the water. At that time, he was still connected to his parachute that allowed him to float in the water. He was wearing a life jacket.
Investigators said that the South Carolina man was unconscious when they finally pulled him out of the water.
"After all these incidents, I can't believe we haven't gotten smarter as an industry," said Mark McCulloh, chairman of the Parasail Safety Council, a nonprofit agency promoting parasailing safety and based in Maitland.
Eight people were on the 28 foot parasailing boat at the time of the accident. All witness statements were consistent. Officials have yet to determine what happened between the time the tourist waved that he was okay and when he became unconscious.
According to the U.S. Coast Guard, the boat was an uninspected vessel. The boat is currently in the hands of the Florida Fish and Wildlife Commission until the investigation is complete.
McCulloh, a former parasail operator, says that the parasailing industry needs strict rules for parasailing. He says that these rules should include maximum wind speed when parasailing, height restrictions and tougher regulations on equipment inspection and types of towlines.
In 2010, the state Legislature tried to strengthen parasailing safety rules and enforcement, but the effort failed after companies complained.
"They don't want anyone regulating them," said McCulloh. "They don't want to conform to some kind of safety parameters they think might interfere with profit or keep them from taking chances."
Currently, the Florida Fish and Wildlife Conservation Commission estimates that there are about 100 commercial parasail operators in the state of Florida. The Parasailing Safety Council reports that there were nearly 400 known accidents that happened from 1990 through September of 2009. These accidents resulted in more than 20 deaths. Again, these statistics are not completely accurate since no one agency keeps track of these events.
If you're planning a parasailing trip, be sure to research the company. Ask how long the company has been in business. Make sure they're licensed by both the state and city or county and exist in a well-established location. Lastly, make sure that the boat's captain is a U.S. Coast Guard Licensed Captain.

Associates and Bruce L. Scheiner, Attorneys for the Injured, is a law firm dedicated to representing accident victims in personal injury and wrongful death claims throughout South Florida, including Fort Myers, Cape Coral, Naples, Port Charlotte and Sebring. Call for a free and confidential consultation to discuss your rights. 1-800-283-2900.
Additional Resources:
S.C. man dies parasailing in the Gulf, by Howard Atlman, Tampa Bay Online
Tourist dies after parasailing accident off Longboat Key, by Josh Gauntt, 13 News
More Blog Entries:
Fort Myers Defective Products, Premise Liability Issues a Holiday Weekend Danger , Florida Injury Lawyer Blog, July 4, 2011
Watercraft accidents a winter danger in Naples and Fort Myers , Florida Injury Lawyer Blog, November 21, 2010
Authorities look to prevent boating accidents in Fort Myers, Naples as season begins , Florida Injury Lawyer Blog, November, 9, 2010