The National Transportation Safety Board has placed motorcyclists on its "most wanted" list. This is a list that aims to raise awareness about the dangers that these drivers face and to encourage safer driving habits by all to better protect them.
The yearly number of motorcyclist deaths has doubled from 2,116 in 1997 to 4,462 in 2009. It is estimated that 12 motorcyclists are killed on our roadways every day. Even though these two-wheeled motorists only make up about 3 percent of the number of vehicles in our country, they account for nearly 15 percent of all highway fatalities. Florida, California and Texas lead the nation in the number of serious and fatal motorcycle accidents recorded each year.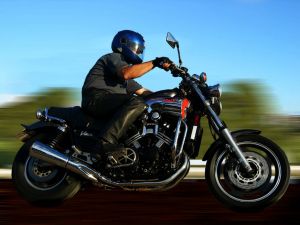 FARS (Fatality Analysis Reporting System) reports the following trends in fatal motorcycle accidents:
-A majority of motorcycle accidents occur on rural roads.
-Roughly half of these fatalities are related to negotiating a curve prior to the accident.
-A majority of motorcycle fatalities happen on undivided roadways.
-Roughly 60 percent of motorcyclist fatalities occur at night.
-Collision with a fixed object is a significant factor.
-Head injury is the number one cause of death in motorcycle crashes.
Motorists can make all the difference in the safety of a motorcyclist on our roadways. With safe, alert and cautious driving habits, passenger-vehicle drivers can accommodate these drivers and help to save lives.

Tips for motorists to share the road more effectively and safely with motorcyclists, according to the Motorcycle Safety Foundation:
-Be sure that you make it a point to look for motorcycles when entering an intersection.
-Motorcycles may look farther away than they actually are. This is because of their small size. For this reason, it can also be difficult to judge their speed. Always predict that a motorcycle is closer than it appears.
-Check you blind spots. Again, because of their small size, motorcycles can easily become lost in your blind spots. Make sure you always check, and double check, your blind spots before making a move in traffic.
-Remember that motorcyclists oftentimes slow their vehicle by downshifting instead of using the brakes. Downshifting doesn't activate a brake light. Follow with caution and allow them plenty of room.
-Motorcycles oftentimes have a difficult time stopping on wet and slippery pavement. Again, do not follow too closely.
-Turn signals on motorcycles are not always self-canceling. Make sure that a motorcyclist's signal is for real when traveling near them.
-Always think of a motorcyclist on our roadway as an actual person, not just as a motorcycle.

Associates and Bruce L. Scheiner, Attorneys for the Injured, has spent four decades fighting for the rights of motorcycle riders throughout South Florida, including Fort Myers, Cape Coral, Naples, Port Charlotte and Sebring. Call for a free and confidential consultation to discuss your rights. 1-800-283-2900.
More Blog Entries:
Motorcycle Safety Awareness Month aims Reduce Risks of Motorcycle Accidents in Florida, Florida Injury Lawyer Blog, May 11, 2011
Governor Declares May Motorcycle Safety Awareness Month to Help Reduce Risks of Florida Motorcycle Accidents, Florida Injury Lawyer Blog, May 3, 2011
Advocates Team Up to Raise Awareness of Motorcycle Accidents in Fort Myers and Elsewhere, Florida Injury Lawyer Blog, May 1, 2011