We've said it time and time again — driving near tractor-trailers is dangerous. But did you know that one of the biggest dangers comes from the risk of your vehicle sliding underneath one of those things?
Fortunately, a lot of semi-trucks do a decent job of keeping your car from slipping underneath in the event of an accident — but they don't do a great job of this when one is rear-ended. Because of this, officials with the Insurance Institute for Highway Safety (IIHS) are taking a closer look.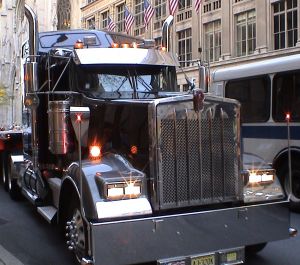 In the recent test results from the IIHS, only a small number of these tractor-trailers do their job in preventing deadly underride injuries.
Our Fort Myers trucking accident lawyers understand that most semi trucks out there are required to have the proper underride guards. But are they effective? These guards are the steel bars that hang from the back of trailers to help to keep your vehicle from sliding underneath in the event of an accident. Previous research showed that the minimum dimensions and strength requirements for these guards weren't good enough. Because of those studies, officials with the National Highway Traffic Safety Administration (NHTSA) revamped the safety standards back in 2011. The IIHS also considered getting the NHTSA to require these guards on all kinds of trucks. Unfortunately, lawmakers have thus far failed to act.
Without the requirements, trailer manufacturers may still be installing guards that are much tougher, stronger and more effective than the NHTSA currently requires. That's good news because these guards generally work well to prevent underride. But they're not effective when accidents happen at the rear corners and outer edges of trailers.
Officials believe that these manufacturers are installing tougher guards because it's already a requirement in Canada, and has been since 2007. More recently, IIHS crash tests have started to shine light on this very important issue, and at least one manufacturer has started selling trailers that come equipped with stronger underride guards since the tests first started.
Back in 2011, close to 300 of the 2,240 passenger vehicle occupants who were killed in accidents with large trucks were killed when the front of their vehicle hit the back of a large truck. Although that's a number that's down from 460 out of close to 3,700 in 2004, officials believe the number dropped because American drivers were spending less time behind the wheel as a result of the weak economy and not because of improvements to these guards.
Regardless of how strong these underride protectors may be, it's important that all drivers are on their best behavior when traveling near these large trucks. Their size, weight and power make our vehicles virtually powerless against them. Steer clear of semis, tractor-trailers, dump trucks and other big rigs whenever possible.

If you or a loved one has been involved in an accident, contact Associates and Bruce L. Scheiner, Attorneys for the Injured. Call for a free and confidential consultation to discuss your rights. 1-800-283-2900.
More Blog Entries:
South Florida Tractor-Trailer Accidents – Tougher Restrictions Needed, Florida Injury Lawyer Blog, January 26, 2013
Florida Law Enforcement Targets Unsafe Drivers, Florida Injury Lawyer Blog, November 15, 2012