A recent accident in Fort Myers took the life of a motorcyclist. According to The News-Press, the accident happened on Fowler Street when the motorcyclist ran into a van after it reportedly turned in front of him. The accident happened just after 12:00 p.m. Officers with the Fort Myers Police Department responded to the accident, at Market and Flower Streets, and pronounced the motorcyclists dead at the scene. Officers are saying the driver of the van is at fault. He will be cited for failing to yield to the right of way.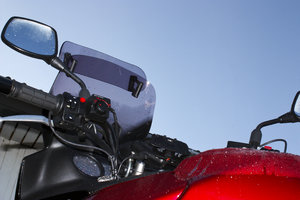 And that is the number one cause of motorcycle v. vehicle accidents — In far too many cases the motorist fails to yield the right of way. In the vast majority of those cases, a motorist turns left into the path of an oncoming rider.
Our Fort Myers motorcycle accident lawyers urge motorists to be more aware. A motorcycle's small size make speed and distance difficult to judge. Frequently a bike is closer and moving faster than it appears. Showing a little patience and waiting to make your turn can prevent an accident.
These motorists are at some seriously high risks for traffic accidents. What's even worse is that they're at higher risks for serious injury and even death in the event of a collision. Even with a helmet, these riders are vulnerable to the impact from another car, from the pavement and even from property. Drivers are asked to be safe and alert on our roadways to help to keep these vulnerable travelers safe.
In 2010, there were more than 235,000 traffic accidents in the state of Florida, according to the Florida Department of Highway Safety and Motor Vehicles (DHSMV). In these accidents, there were nearly 2,500 people killed in just one year. Another 195,000 people were injured.
Of these fatalities and injuries, nearly 400 fatalities were motorcyclists and another 50 were motorcycle passengers. There was a near 30 percent increase in the number of motorcycle passengers who were killed from 2009 to 2010. In addition to all of these fatalities, there were another 9,000 motorcyclists injured in 2010.
Florida continues to be ranked as one of the top states for these kinds of accidents.
To help to keep our riders safe, we're asking all drivers to be on the lookout for our two-wheeled friends. Riders are often overlooked on our roadways. We just all need to take that extra second to check for any motorcycles. This is especially important when you're changing lanes, when you're making a turn or when you're reversing. These riders can easily get lost in your blind spots, too. Make sure that you physically turn your head to check your blind spots before making a move. They may have smaller vehicles and less wheels than most of us but they're still entitled to the same rights on our roadways, that includes the right to an entire lane.
Never try to share a lane with a motorcyclist.

Associates and Bruce L. Scheiner, Attorneys for the Injured, has been here for more than 40 years fighting for those who have been involved in motorcycle accidents in Fort Myers, Cape Coral, Naples, Bonita Springs, Port Charlotte and Venice. If you or someone you love has been involved in a motorcycle accident, call today to set up a free and confidential appointment to discuss your case. Call 1-800-283-2900.
More Blog Entries:
Motorcycle Accidents in Fort Myers and Elsewhere Up Despite Declining Stats, Florida Injury Lawyer Blog, June 8, 2012
Two Motorcycle Accidents in Fort Myers in One Evening, Florida Injury Lawyer Blog, May 9, 2012