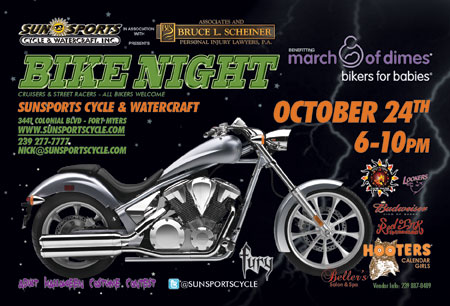 Sunsports Cycle and Watercraft, in association with Associates and Bruce L. Scheiner hosts Bike Night this Saturday, October 24th from 6pm until 10pm. Sunsports Cycle and Watercraft is located at 3441 Colonial Boulevard in Fort Myers. All bikers are welcome.
Organized as a fundraiser for the March of Dimes Bikers for Babies, Sunsports has pulled out all the stops to give the motorcycle community something special on Saturday night. UFC fighters, David Loiseau and Vernon White will make appearances at the event; the Calendar Girls from Hooters will be there selling their calendars and "dressing up" the event; and there will be a Halloween Costume Contest, so come in your best costume. Vendors, beer, food, great deals…what more could a biker need?
But, if that isn't enough, from 3:30pm until 6:30 pm Sunsports is having a Bike Wash and all proceeds are being donated to Bikers for Babies.
Sunsports Cycle and Watercraft is a multi-line dealer of motorcycles, watercraft and ATV's. Their lines feature Honda, Polaris, Suzuki, Yamaha, Sea-Doo, and Can-Am. Sunsports Cyle and Watercraft has been a mainstay in Fort Myers for several decades providing excellent customer service and great deals on motorcycles and watercraft.
When asked about the event, Ralph Graettinger, General Manager of Sunsports said, "Sunsports bike night promises to be a good time as well as support a great cause! It is very important for local businesses to get involved in the communities that support them. The March of Dimes Bikers for Babies is a great organization that helps fund research for premature birth. I had no idea that one in eight babies are born prematurely and that premature birth is the leading cause of death in the first month of life. I think that it's great that Sunsports is taking an active role in something that affects such a large portion of the public. Start the FUN!"
Don't forget to stop by and say hello on Saturday night, October 24th. See you there!
For more information, call 239-277-7777.