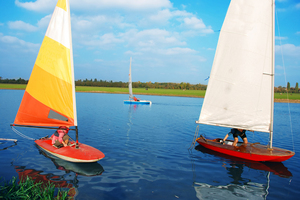 Safety at Sea Can Prevent a Serious Accident
Just as our area roadways experience more traffic with the onset of the annual tourist season, so do our waterways. Recreational boaters increase dramatically as part-time residents and visitors from around the world descend on Southwest Florida, and enjoy its ideal waterfront lifestyle.
Florida has the highest number of registered boats in the country – over 1 million as of 2008 – according to the Florida Fish and Wildlife Commission, (FWC), Department of Law Enforcement. Lee County alone, with its miles of sandy shoreline, rivers and inlets, accounts for over 50,000 registered vessels, making this one of the hot spots for boating accidents and increased boating safety awareness. In fact, the top 10 Florida counties as ranked by boating accidents include Collier County at number 6, and Lee County at number 9, for the year 2008. The vast majority of accidents on the water involve collisions with another vessel, and the large majority of those have been found to be due to lack attention by the boat's operator. Of course, just as on the highway, alcohol use plays a primary role when analyzing Florida boating accidents. The Coast Guard and other law enforcement agencies enforce strict laws regarding boating under the influence, (BUI), laws, with severe penalties for those found guilty of the offense.
While there have been fewer "reportable" boating accidents in Florida waterways from 2002 to 2008 that may just be a technicality. Effective July 2003, the threshold for what is termed a reportable boating accident, which is measured in dollar value of damages incurred, was increased from $500.00 to $2,000.00, which explains the decline in the number of "reportable accidents". Federal law states that if you are involved in a boating accident, you are responsible for reporting it to the proper state agency. The U.S. Coast Guard provides an official form for doing so, and it can be found here: http://www.uscgboating.org/assets/1/Publications/cg3865barform2008.pdf.
Boating safety is the key element to an enjoyable day on the water. It is recommended that every boat operator take a certified boating safety course, which can be done through the U.S. Coast Guard Auxiliary, the U.S. Power Squadron, the Florida Fish and Wildlife Conservation Commission, BOAT U.S. Foundation, and several other outlets. The U.S. Coast Guard offers some basic boating safety tips that could prevent a serious, life-changing accident:
Wear Your Life Jacket While Boating: Life jacket use by all boat occupants can reduce drownings. Coast Guard-approved life jackets are now more attractive in appearance and comfortable to wear. When properly fitted, a life jacket or PFD (personal flotation device) can help to prevent a tragedy.
Avoid Alcoholic Beverages While Boating: Alcohol use affects judgment, vision, balance, and coordination. Reports suggest that alcohol was a contributing factor in about one in five boating fatalities.
Complete a Boating Education Course: Most reported incidents in 2006 involved operator-controllable factors. The primary causes of incidents were carelessness or recklessness, operator inattention, operator inexperience, and unsafe speeds.
Participate in the Vessel Safety Check (VSC) Program: The Vessel Safety Check (VSC) is a free public service provided by the U.S. Coast Guard Auxiliary and U.S. Power Squadron volunteer organizations promoting boating safety. These volunteer personnel check safety equipment and provide information about equipment purpose, safety procedures and applicable regulations. For more information on the VSC Program, visit their web site: http://www.vesselsafetycheck.org./
Be Aware of the Risk of Carbon Monoxide (CO) Poisoning: All internal combustion engines emit CO, an odorless, colorless, poisonous gas. In the early stages, the symptoms of CO poisoning are similar to seasickness and CO can kill in a matter of minutes. There is potential for CO poisoning during the use of air conditioning powered by an onboard motor generator; the operation of any gasoline-powered engine while docked and/or rafted with other boats operating engines; swimming or floating near an idling boat engine; or running a boat, or being underway with improper cabin ventilation. To avoid CO poisoning, be aware of the risk, ensure sufficient ventilation, properly install and maintain equipment, and use CO detectors, especially in living and sleeping areas.
Be sure to check state and local requirements before boating. There are different rules and regulations for operator-age, safety equipment, etc., in different parts of the country.
Senior personal injury attorney Bruce L. Scheiner, founder of the law firm that bears his name, says he and his team of boating accident experts have handled many boating accident cases in which severe injuries were avoidable, had more precautions been taken. "Southwest Florida is known as a boating paradise, and our vast amount of open waters are a great place to enjoy recreational boating activities, Scheiner noted. "Unfortunately, and especially when someone chooses to operate a boat while impaired by alcohol or drugs, a fun-filled day on the water can turn into a devastating experience."
If you or someone you love has been injured as a result of a boating or personal watercraft accident, the lawyers at Associates and Bruce L. Scheiner Personal Injury Lawyers, P.A., are dedicated to fighting for justice on your behalf. And, you pay us nothing unless we are successful on your behalf. Please visit www.focusedonjustice.com or call 1-800-DIAL-BLS to learn how we may be of service.