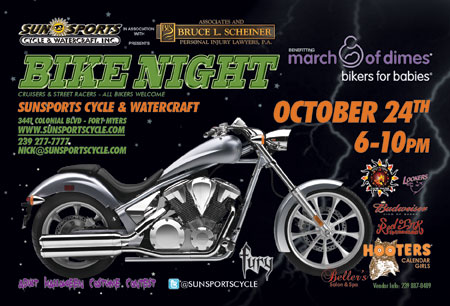 Sunsports Cycle and Watercraft, in association with Associates and Bruce L. Scheiner hosts Bike Night this Saturday, October 24th from 6pm until 10pm. Sunsports Cycle and Watercraft is located at 3441 Colonial Boulevard in Fort Myers. All bikers are welcome.
Organized as a fundraiser for the March of Dimes Bikers for Babies, Sunsports has pulled out all the stops to give the motorcycle community something special on Saturday night. UFC fighters, David Loiseau and Vernon White will make appearances at the event; the Calendar Girls from Hooters will be there selling their calendars and "dressing up" the event; and there will be a Halloween Costume Contest, so come in your best costume. Vendors, beer, food, great deals…what more could a biker need?
But, if that isn't enough, from 3:30pm until 6:30 pm Sunsports is having a Bike Wash and all proceeds are being donated to Bikers for Babies.