The Florida Department of Highway Safety and Motor Vehicles is reminding motorists that January is Move Over month.
We recently reported on our Florida Injury Lawyer Blog about the risks of highway driving, including the need to understand what to do after a vehicle breakdown or a traffic collision, both of which put you at risk of a secondary collision. It's always a good idea to move away from vehicles stopped along the roadside. But Florida law requires drivers to slow down and/or move over when approaching roadside vehicles with activated emergency lights.
Last year, the Florida Highway Patrol reported 231 crashes and nearly 17,000 citations issued to motorists who failed to obey the law.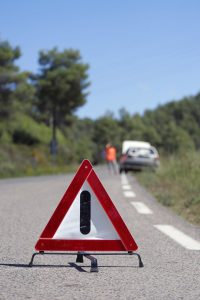 The Move Over Law was added to section 316.126, Florida Statutes, in 2002 and requires drivers to move out of the lane adjacent to stopped safety traffic whenever it is possible and safe to do so, and to otherwise reduce speed to 20 mph below the limit in areas where the speed limit is greater than 25 mph. Utility and sanitation workers were added to the law in 2014.
Avoiding Secondary Collisions in SWFL
Our car accident lawyers in Fort Myers and Naples support local law enforcement efforts as these dedicated men and women work to make Southwest Florida a safer place to live. As we enter the height of South Florida tourist season, this is the busiest time of the year on Florida roads. Law enforcement, tow trucks, emergency medical workers, and road construction crews are just a few of our most vulnerable road users.
"When a crash occurs, law enforcement and first responders are there. When a disabled vehicle needs assistance, Road Rangers or tow truck drivers are there. When power lines need repairs, utility and service workers are there," said DHSMV Executive Director, Terry L. Rhodes. "The Move Over Law is in place to protect those who serve all of us on the roadways, giving them a safe space to do their jobs. Move Over, Florida, and help ensure that these public servants come home safely each day."
Giving these crews room to work is the best thing you can do when it comes to preventing a tragedy and assuring they make it home safe to their families. Understanding what to do if your vehicle becomes disabled or you are otherwise stopped along the side of the road can also help keep you safe.
The Florida Road Rangers Service Patrol is a significant public service available to Florida motorists. The agency aims to improve highway safety for emergency responders and the motoring public by providing incident response and no-cost highway assistance to motorists. Be sure to pull as far off the roadway as possible, which means traveling to the other side of guardrails or other obstructions that leave too little room to safely pull off the roadway. The best places to wait with a disabled vehicle or while otherwise stopped along the road is either in your vehicle or well away from traffic.
The public is encouraged to report aggressive drivers by dialing *FHP (*347). For more information on the Move Over Law, visit: https://www.flhsmv.gov/safety-center/driving-safety/move-over/.
If you or a loved one is injured, call Associates and Bruce L. Scheiner, Attorneys for the Injured, at 1-800-646-1210.